Community Developments Investments (July 2015)
A Look Inside...
Barry Wides, Deputy Comptroller, Community Affairs, OCC
Paul O. was laid off in February 2010 after 17 years as a shipping and warehouse supervisor for an electronics manufacturer in Winston-Salem, N.C. While disappointed, Paul says he had peace of mind on the day he was laid off because of the information he received about the North Carolina Hardest Hit Fund Program from the Governor's Workforce Rapid Response Team. (Source: North Carolina Housing Finance Authority)
As much of the country experiences a slow but steady recovery from the housing and mortgage industry crisis, pockets of the United States continue to see stubbornly high rates of mortgage default and home foreclosure. The federal government, the states most affected by the crisis, and the private sector have tried to address the problem in various ways. This newsletter highlights one of the major federal initiatives, the Hardest Hit Fund (HHF), with articles that feature some of the collaborative programs that have allowed states to implement solutions tailored to each area's situation.
There is no single solution for increasing sustainable loan modifications and reducing foreclosures. The Home Affordable Modification Program and the Home Affordable Refinance Program were created to address the crisis, and the U.S. Department of the Treasury has continually refined the programs in an effort to increase the number of sustainable loan modifications. Newly developed protocols have helped eliminate roadblocks to loan modifications, such as second liens, and new procedures have improved the handling of short sales and the execution of deeds in lieu of foreclosure to address cases where foreclosure appeared inevitable. New incentives are available to help borrowers who transition to more affordable housing.1
The HHF, part of the Troubled Asset Relief Program, provides funding under an allocation formula to the states that were most severely affected by unemployment and foreclosures during the housing crisis. Initially, the HHF, which the Treasury Department administers, applied to five states. A second round of funding expanded the program to an additional 13 states and the District of Columbia. Some of these jurisdictions have fully used their funding, and those with remaining funds have until December 2017 to distribute their funds to homeowners in need. As of March 31, 2015, states reported committing $5 billion of the total $7.6 billion allocated to them. The states that still have HHF funds available to directly assist homeowners are Alabama, Arizona, California, Florida, Georgia, Indiana, Kentucky, Michigan, Mississippi, Nevada, North Carolina, and South Carolina.
The HHF's design gives states that receive funding the flexibility to develop or expand existing foreclosure avoidance programs, allowing them to address the challenges unique to their local housing markets. These states implemented their HHF programs through their state housing finance agencies (HFA). The HFAs have developed innovative approaches to help homeowners stay in their homes or make smooth transitions to alternative housing arrangements.
The articles in this edition of Community Developments Investments detail the HFAs' efforts. The HFAs use approaches ranging from principal reduction and second lien extinguishment, which support more sustainable loan modifications, to more straightforward approaches that provide temporary mortgage assistance for unemployed and underemployed borrowers and assistance to facilitate short sales.
An article by Erin Quinn, Program Director for the HHF at the Treasury Department, provides an overview of the HHF program, along with helpful reference materials related to the program. Craig Nickerson, with the National Community Stabilization Trust, and Danielle Samalin, Vice President of Homeownership Initiatives, Housing Partnership Network, and President, Framework®, describe efforts to address low-value abandoned properties in a way that complements the work being done by the state HFAs. As has been evidenced throughout the mortgage crisis, it takes the combined resources and ingenuity of many partners to stabilize communities.
This newsletter is part of the OCC's efforts to raise awareness of innovative approaches, share emerging best practices, and encourage banks that serve states with HHF programs to participate in the programs to identify solutions that may help borrowers remain in their homes. Finally, we include links to Treasury Department and OCC resources, which we hope you find useful.
1 The Home Affordable Foreclosure Alternatives (HAFA) program provides qualified borrowers with up to $10,000 in relocation assistance. HAFA provides incentives to encourage borrowers to choose alternatives that avoid foreclosure, such as a short sale or a deed in lieu of foreclosure. In a short sale, the mortgage servicer allows the owner to sell the house for an amount less than the remaining mortgage balance. In a deed in lieu of foreclosure, the borrower signs the title back to the mortgage company. Both alternatives avoid the time and expense of a foreclosure. Unlike conventional short sales, a HAFA short sale completely releases the borrower from any obligation under the mortgage debt after the property is sold—the servicer must waive any right to a deficiency judgment. HAFA also has a less negative effect on a borrower's credit score than a foreclosure or conventional short sale.
This publication is part of:
Collection: Community Developments Investments
---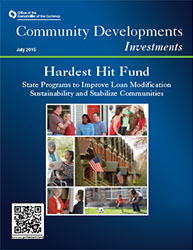 Download PDF

Deputy Comptroller
Barry Wides
Editorial Staff
Michael Carrier
Sharon Canavan
Jessica Scully
Lily Dow
Dan Gibbard
Design Staff
Cheryle Robison
For questions or comments, call (202) 649-6420 or email communityaffairs@occ.treas.gov. This and previous editions are available on the OCC's website at www.occ.gov.
Disclaimer
Articles by non-OCC authors represent the authors' own views and not necessarily the views of the OCC.
---
Deputy Comptroller
Barry Wides
Editorial Staff
Ted Wartell
Bill Reeves
David Black
Dan Gibbard
Design Staff
Rick Shacklette
Cheryle Robison
For questions or comments, call (202) 649-6420 or email communityaffairs@occ.treas.gov. This and previous editions are available on the OCC's website at www.occ.gov.
Disclaimer
Articles by non-OCC authors represent the authors' own views and not necessarily the views of the OCC.
---