Community Developments Investments (July 2015)
Hardest Hit Fund Provides Locally Tailored Solutions for Struggling Homeowners
Erin Quinn, Program Director, Hardest Hit Fund, U.S. Department of the Treasury
The Treasury Department works with state housing finance agencies to administer the Hardest Hit Fund, which was created as part of the Troubled Asset Relief Program in February 2010. (Source: Shutterstock)
The Hardest Hit Fund (HHF) was first announced in February 2010 under the Troubled Asset Relief Program (TARP) as a $1.5 billion foreclosure prevention program that provided funding to state housing finance agencies (HFA) in the five states most affected by severe home price declines (Arizona, California, Florida, Michigan, and Nevada). Over the next seven months, as the housing crisis continued to develop, the program grew to a total of $7.6 billion, adding 14 additional jurisdictions with high unemployment and foreclosure rates (Alabama, the District of Columbia, Georgia, Illinois, Indiana, Kentucky, Mississippi, New Jersey, North Carolina, Ohio, Oregon, Rhode Island, South Carolina, and Tennessee).
The HHF is unique among federally funded foreclosure prevention programs in that it allows each participating HFA to design and implement programs based on the distinct challenges of its local housing markets.1 As critical resources for low- and moderate-income families in their states, HFAs are well-positioned to understand the needs of homeowners and their surrounding communities. HFAs also can leverage existing partnerships in their states to reach homeowners. For example, several states, including Illinois, North Carolina, Ohio, and Rhode Island created or leveraged statewide foreclosure prevention networks with a wide array of partners that build on the states' HHF programs. Through the HHF, participating HFAs can develop locally tailored solutions to housing recovery challenges, as long as programs are designed to prevent avoidable foreclosures in accordance with the Emergency Economic Stabilization Act of 2008 (TARP's statutory authority).
Today, the 19 participating HFAs are implementing innovative ideas to help homeowners at risk of foreclosure, with more than 70 programs in place. Through the HHF, HFAs are working to address some of the most difficult challenges facing struggling homeowners in the areas hardest hit by the economic downturn. HFAs have until the end of 2017 to commit funds.
Every participating HFA offers at least one program designed to help unemployed or significantly underemployed homeowners pay their mortgages while they look for work, or to help these homeowners make missed payments and settle other arrearages accumulated during a temporary employment-related hardship. Other types of programs include principal reduction (such as second lien extinguishment or principal reduction with a mortgage modification, reamortization, or refinancing), transition assistance (in conjunction with short sales or deeds in lieu of foreclosure), and neighborhood stabilization assistance (including blight removal and greening efforts in communities where home prices continue to decline and homeowners remain at risk of foreclosure). As HFAs learn from implementation and adapt to changing housing and employment markets, they make changes to their programs with the Treasury Department's consent. The Treasury Department works closely with every participating HFA to help identify potential obstacles and solutions to increase program effectiveness. Participating HFAs also collaborate closely with each other, sharing successful strategies as they go.
Another unique aspect of the HHF is that HFAs can assist homeowners directly, so homeowners do not need to apply to their mortgage servicer for help. As part of their participation in the HHF, HFAs are primarily responsible for soliciting and screening homeowners, as well as managing the relationship with a mortgage servicer on a homeowner's behalf. To accomplish this, HFAs created extensive infrastructures to operate these programs, including hiring and training staff and housing counselors, developing portals homeowners use to apply for assistance and provide supporting documentation, and establishing ways to communicate with mortgage servicers and other critical partners. By July 2011, all 19 participating HFAs were offering their programs widely. HFAs and servicer partners continue to streamline and improve operational processes and outreach initiatives to reach additional struggling homeowners seeking assistance.
Every month, the number of homeowners benefiting from HHF assistance grows. As of March 2015, almost 230,000 homeowners had received assistance, and $4.7 billion had been committed on their behalf; an additional $300 million has been committed under blight elimination programs. The vast majority of the assistance provided to families has been through mortgage payment and reinstatement assistance programs, under which HFAs make monthly mortgage payments to the servicer on a homeowner's behalf. Each HFA determines the amount and duration of assistance provided.
Other, more operationally complex types of programs have been implemented to address severe negative equity and permanent reductions in income. One of the areas in which HFAs have shown great innovation is principal reduction with a mortgage modification, reamortization (recast), or refinancing. Initially, several HFAs had principal reduction programs that matched contributions by servicers to reduce the homeowner's outstanding principal balance. Because the desired volumes were not being achieved, most HFAs began offering "unmatched" principal reduction programs and exploring other strategies to permanently reduce a homeowner's monthly mortgage payment.
California's HFA created a model in which the unmatched principal reduction is used to achieve targeted payment reduction by recasting the loan with a lower principal balance.2 This is a much simpler process for servicers than modifying the loan. Several HFAs have since incorporated recasting into new or existing modification programs. Florida's HFA developed its HHF principal reduction program to reduce the unpaid principal balance for severely underwater homeowners who are current on their mortgage payments. Both HFAs' programs can assist borrowers whose loans are owned by Fannie Mae or Freddie Mac, who might otherwise be prevented from participating in principal reduction programs, and they are often better-positioned to apply for a HARP or other type of refinancing after receiving assistance through one of these programs.
The HHF is not only developing new ideas for loss mitigation, but is also tracking progress to see which solutions are the most sustainable for borrowers, while developing new models for program operations. HFAs are continuously seeking solutions to a number of questions: What is the best way to reach a troubled homeowner? What outreach methods are the most cost effective? How can an organization leverage housing counselors in a way that leads to higher success rates? How can HFAs most effectively work with mortgage servicers to get assistance to homeowners as quickly as possible? The answers vary from state to state. HFAs learned a great deal as they rolled out their programs and are refining their approaches as they go. Through the HHF, HFAs are becoming experts at loss mitigation strategies, and have created an alternative delivery system for struggling homeowners far more tailored than the standardized systems used by national servicers.
As HFAs continue to successfully administer HHF programs, one-third have ceased accepting new applications in anticipation of full commitment of program funds. As of March 31, 2015, seven HFAs (those in the District of Columbia, Illinois, New Jersey, Ohio, Oregon, Rhode Island, and Tennessee) had closed their application portals. These HFAs will review homeowner applications in their respective pipelines until they have fully committed program funds to qualified homeowners.
The housing market is beginning to show signs of recovery, but conditions in many of these states are still fragile and the need for these programs continues. The HHF was one of the Administration's responses to an unprecedented housing crisis whose impact varied substantially by local housing market. The HHF has helped create capacity, communication channels, and relationships at the local level among HFAs, housing counselors, servicers, and others that will enable them to be invaluable resources for foreclosure prevention efforts going forward. The Treasury Department continues its work with these HFAs to provide assistance to homeowners while local housing and employment markets continue to recover.
For more information, including links to local HHF programs, please visit the Treasury Department's HHF Website.
1 The U.S. Department of the Treasury provides detailed information about the various state HHF programs.
2 In a recasting, the principal balance of the loan is reduced and the monthly payment is reamortized based on the resulting principal balance, but the loan's term and interest rate remain unchanged.
This publication is part of:
Collection: Community Developments Investments
---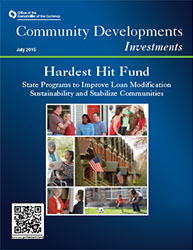 Download PDF

Deputy Comptroller
Barry Wides
Editorial Staff
Michael Carrier
Sharon Canavan
Jessica Scully
Lily Dow
Dan Gibbard
Design Staff
Cheryle Robison
For questions or comments, call (202) 649-6420 or email communityaffairs@occ.treas.gov. This and previous editions are available on the OCC's website at www.occ.gov.
Disclaimer
Articles by non-OCC authors represent the authors' own views and not necessarily the views of the OCC.
---
Deputy Comptroller
Barry Wides
Editorial Staff
Ted Wartell
Bill Reeves
David Black
Dan Gibbard
Design Staff
Rick Shacklette
Cheryle Robison
For questions or comments, call (202) 649-6420 or email communityaffairs@occ.treas.gov. This and previous editions are available on the OCC's website at www.occ.gov.
Disclaimer
Articles by non-OCC authors represent the authors' own views and not necessarily the views of the OCC.
---