Community Developments Investments (July 2015)
Protect My Kentucky Home: Unemployment Bridge Program
Michael Carrier, Community Development Expert, OCC
Kentucky Housing Corporation focuses its Hardest Hit Fund relief efforts on unemployed and underemployed homeowners, providing them with temporary mortgage assistance and reinstatement assistance to help bring them current on their mortgages.
The 19 jurisdictions around the country that ultimately received Hardest Hit Fund (HHF) assistance were selected based on two factors: unemployment rates at or above the national average and steep home price declines. Although the states that received HHF assistance have flexibility to offer locally tailored programs to help distressed homeowners, all of the states participating in the HHF program provide some level of assistance for unemployed mortgage borrowers. Kentucky Housing Corporation (KHC) chose to focus its state's HHF relief on temporary mortgage assistance for unemployed homeowners and reinstatement assistance to help bring eligible borrowers current on their mortgages.
The unemployment assistance program KHC offers is typical of the programs developed by the states. The KHC's Unemployment Bridge Program (UBP) offers a forgivable loan to eligible applicants to assist them in making their mortgage payments. As long as the UBP eligibility requirements are met, a borrower can receive assistance for up to 18 months, but the total amount of assistance is capped at $30,000. If a borrower qualifies, the UBP provides assistance to cover the borrower's full monthly mortgage payment, including taxes and insurance. Additionally, borrowers can receive up to the maximum assistance amount, $30,000, in UBP funds upfront to pay any outstanding amounts, such as a delinquent balance, late fees, penalty interest, taxes, and insurance. To ensure that payments are made, the assistance funds are wired directly from KHC to the servicer each month. Payments continue for two months after the borrower becomes reemployed or otherwise has a substantial increase in income.
UBP assistance is structured as a zero percent interest, nonamortizing, forgivable, nonrecourse loan, secured by a junior lien on the property, which is forgiven 20 percent per year for five years. The unforgiven portion of the loan must be repaid if the borrower sells the property before the five-year period expires, provided the borrower has sufficient equity in the property to repay all or part of the loan. For example, if KHC provides $25,000 of assistance, and one year later the borrower sells the property for $100,000 and pays off an outstanding first lien balance of $80,000, the borrower needs to repay $20,000 to the UBP. In the same example, if the borrower's sales price is $80,000, the borrower does not have to repay any of the assistance provided.
Borrower Eligibility Criteria
Borrowers applying for UBP assistance must be either unemployed or underemployed, and must have experienced a job loss or reduction in income due to changing economic conditions or a qualifying disability within a three-year period prior to the date of application. Borrowers must sign a hardship certification acknowledging that the job loss or reduction in income is due to no fault of their own. Assistance is not available in situations where the borrower's financial need is related to divorce or death.
Assistance is available for unemployed borrowers whose mortgage payment exceeds 31 percent of the household's gross monthly income and for underemployed borrowers who can demonstrate that their current income is at least 15 percent less than their pre-event income. Unemployed borrowers receiving unemployment benefits include those benefits in the household income calculation.
Underemployed borrowers include those who have experienced a qualifying job loss but found another job that pays significantly less. Other underemployed borrowers may have had their hours or salary reduced.
A borrower's cash reserves must have dwindled to less than six months of the borrower's monthly outlay for principal, interest, taxes, and insurance. Cash reserves are defined as liquid assets but do not include retirement funds, such as 401(k) or individual retirement accounts. The property must be the borrower's principal place of residence, and the borrower cannot own other residential or rental property. The outstanding balance of the loan or loans on the property must total $275,000 or less, and no more than two existing liens are permitted on the property.
Although KHC handles the underwriting of each application, both KHC and the existing loan servicer must approve the extension of the UBP loan. More often than not, the servicer agrees to the UBP loan; sometimes, however, the borrower is so seriously delinquent that the UBP's limit of $30,000 for reinstatement assistance is insufficient to bring the borrower current. In other instances, the borrower already may be pursuing a different loss mitigation option offered by the servicer.
Outreach to Struggling Borrowers
KHC has developed multiple strategies for publicizing its UBP program. A telephone hot line and Website provide general information about the program and application process. The Website is linked to a variety of state government Websites, so that individuals seeking assistance elsewhere for housing, financial, and employment services can easily obtain information about the UBP. "We also deploy a 'rapid response team' whenever we learn that a plant closing or other major layoff is about to happen," said KHC's UBP Coordinator, Brenda Walker. The rapid response team goes on site when an event that triggers layoffs occurs to provide information and serve as a resource to borrowers who may soon need assistance.
KHC has contacted servicers directly with information about the program. KHC's outreach includes an educational webinar for all servicers to inform them about the UBP program. "Servicers are our biggest advocate," Ms. Walker explained. "They provide borrowers with the link to the UBP Website and the hot line phone number." Some servicers also insert information about the UBP into borrowers' monthly statements.
Housing counselors are vital to the success of the UBP. Counselors handle the intake and screening of applicants. Borrowers who call the UBP hot line or access the Website are automatically referred to a housing counseling agency. A counselor is generally the borrower's initial point of contact. Housing counseling agencies often identify clients who are eligible for UBP assistance, and provide the clients assistance in completing an application before it is submitted to KHC for final underwriting, loan closing, disbursements, and loan servicing. "Sometimes borrowers come to us because they don't know what their options are—or because they think they've run out of options," said Patty Pickett, a housing counselor with Legal Aid of the Bluegrass. Oftentimes, the borrower receiving a foreclosure notice prompts a call to a housing counselor. Even at this late stage, counselors can sometimes convince the servicer to suspend the foreclosure process and obtain a better result for both the borrower and lender by assisting the borrower in obtaining UBP funds.
Counselors also help borrowers understand their obligations and the program's requirements. Housing counselors are uniquely suited to this function because they can direct a borrower to other loss mitigation options if the borrower does not qualify for the UBP. "The housing counselor network offers a huge value to the HHF program and is a key link in the whole process and a reason for its success," Ms. Walker said. After assistance is extended, housing counselors often maintain contact with borrowers and help keep borrowers on track by providing ongoing budget counseling.
Servicers interested in learning more about participating in the program can visit the KHC Website or contact Keli Reynolds at (800) 633-8896 or kreynolds@kyhousing.org.
This publication is part of:
Collection: Community Developments Investments
---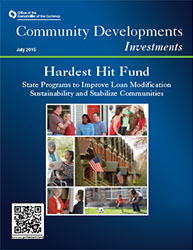 Download PDF

Deputy Comptroller
Barry Wides
Editorial Staff
Michael Carrier
Sharon Canavan
Jessica Scully
Lily Dow
Dan Gibbard
Design Staff
Cheryle Robison
For questions or comments, call (202) 649-6420 or email communityaffairs@occ.treas.gov. This and previous editions are available on the OCC's website at www.occ.gov.
Disclaimer
Articles by non-OCC authors represent the authors' own views and not necessarily the views of the OCC.
---
Deputy Comptroller
Barry Wides
Editorial Staff
Ted Wartell
Bill Reeves
David Black
Dan Gibbard
Design Staff
Rick Shacklette
Cheryle Robison
For questions or comments, call (202) 649-6420 or email communityaffairs@occ.treas.gov. This and previous editions are available on the OCC's website at www.occ.gov.
Disclaimer
Articles by non-OCC authors represent the authors' own views and not necessarily the views of the OCC.
---