Community Developments Investments (July 2015)
Keep Your Home California: Principal Reduction Program
Michael Carrier, Community Development Expert, OCC
Keep Your Home California's Principal Reduction Program lowers homeowners' monthly payments and helps them avoid foreclosure.
The Mortgage Assistance Corporation (MAC), which was created by the California Housing Finance Agency (CalHFA) to administer the state's Hardest Hit Fund (HHF) program, has developed multiple approaches for using its HHF allocation. These approaches include providing temporary monthly assistance payments to unemployed or underemployed households, mortgage reinstatement, and mortgage principal reduction, and assisting homeowners with approved short sales in transitioning to new housing. The highest level of homeowner assistance in California's HHF program suite, Keep Your Home California (KYHC), helps homeowners whose home values have declined below the outstanding amount of their mortgages—so-called negative equity or "underwater" loans.
Among the state programs that allow HHF funding to be used for principal reduction, California's Principal Reduction Program (PRP) has been the most active by far. The CalHFA MAC's goal in administering the PRP is to assist low- and moderate-income homeowners who have experienced an eligible hardship or are facing imminent default.
A recent report estimates that approximately 9 percent of California homeowners are underwater.1 Home values in the Inland Empire and Sacramento metropolitan areas were particularly hard hit.2
The CalHFA MAC believes that PRP assistance is effective for two reasons. Obviously, principal reduction is helpful in reducing the homeowner's monthly payment to a more sustainable level. Another positive impact of aligning the level of outstanding debt closer to market value is that this acts as a powerful incentive for homeowners to remain current on their mortgages going forward and to avoid foreclosure.
Participating lenders work closely with the CalHFA MAC to provide HHF funds to help pay down a homeowner's principal mortgage balance, which allows the lender to reduce the amount of the loan and usually results in a more affordable monthly payment. Lenders that wish to participate must register for the KYHC program. During the registration process, CalHFA MAC provides a comprehensive overview of its HHF programs outlining what is expected, and lenders must sign a memorandum of understanding (MOU) agreeing to follow the program's policies and procedures. For example, participating lenders are required to establish specific points of contact to respond to KYHC transactions in a timely manner. After CalHFA MAC receives a complete and executed MOU from the lender, the lender must complete a two-week training program before participating. Participating lenders that have identified homeowners who could potentially benefit from PRP assistance can direct these homeowners to call the KYHC hot line at (888) 954-5337. The time frame for CalHFA MAC to reach an underwriting decision depends on the complexity of the homeowner's situation. Most approved PRP cases are funded within 45 days.
The PRP provides HHF assistance to reduce the principal balance of underwater mortgages in several ways. For example, assistance is provided in conjunction with a loan modification that may include an interest rate reduction or term extension. Alternatively, the assistance is applied to reduce the existing principal balance and the monthly payment is recalculated, or "recast," to reflect the newly reduced balance (without changes to interest rate or term). The PRP may also be a stand-alone curtailment to reduce the amount of the first mortgage loan if the property has negative equity greater than 120 percent (other conditions may apply).
PRP assistance must reduce the monthly first mortgage payment-to-income ratio to no more than 38 percent of the homeowner's gross household income, excluding temporary income (e.g., unemployment or short-term disability benefits). To achieve this target, servicers may need to apply the PRP assistance to reduce principal in combination with other loan modification changes, such as rate reduction, adjustment to term, or additional forbearance. PRP funds may also be used to reduce or eliminate a non-interest-bearing forbearance amount that resulted from a prior loss mitigation agreement. CalHFA MAC requires participating lenders to waive all accrued and unpaid late charges, fees for insufficient funds, and any recast or modification fees associated with HHF benefits.
A household can receive up to $100,000 in PRP assistance (minus any HHF monies previously received under CalHFA MAC's other HHF programs). In most cases, the PRP assistance is available to households on a one-time-only basis; the KYHC program, however, has the flexibility to provide additional PRP assistance (not to exceed the maximum program assistance amount per household) to previous PRP recipients if the homeowner suffers a subsequent valid financial hardship.
Eligibility Criteria and Program Requirements
The CalHFA MAC PRP assistance is targeted to low- and moderate-income households that have experienced a hardship, such as a job loss, reduction in pay, extraordinary medical bills, death, or divorce. To qualify, the homeowner must complete and sign an affidavit documenting the reason for his or her hardship. In addition to the hardships mentioned above, CalHFA MAC works with homeowners to review two years' worth of financial statements to look for any event that triggered the homeowner's difficulty in making ends meet. Homeowners who have recently encountered any type of financial hardship due to their military service are also eligible. The goal, however, is to ensure a successful outcome with a sustainable mortgage—homeowners must have adequate income to sustain mortgage payments after the assistance is granted.
The mortgage must either be delinquent or meet the CalHFA MAC definition of imminent default as substantiated by a homeowner's hardship documentation. "A pre-assistance loan-to-value ratio of 120 percent or greater is considered a hardship indicative of imminent default," said Diane Richardson, CalHFA MAC's President, adding, "This allows us to focus the program's assistance on those homeowners whose home values are the most severely underwater."
For assistance to be provided, the current unpaid principal balance of the first mortgage (plus any existing non-interest-bearing forbearance balance) must be $729,750 or less. The PRP is available for owner-occupied single-family one- to four-unit properties located in California. The property securing the mortgage loan must not be abandoned, vacant, or condemned. The PRP assistance must reduce the outstanding balance to bring the post-assistance loan-to-value ratio to no less than 100 percent and no greater than 140 percent.
A homeowner in an active bankruptcy is ineligible for assistance under the PRP. Homeowners who have previously filed for bankruptcy are, however, eligible for consideration if they can provide a court order proving dismissal or discharge.
Structure of Assistance
PRP assistance is provided as a nonrecourse, non-interest-bearing subordinate loan secured by a junior lien recorded in favor of CalHFA MAC against the property. At the conclusion of five years,3 the subordinate loan is released. Within the first five years, if the homeowner obtains a cash-out refinance or the property is sold (so long as there are sufficient net equity proceeds) the subordinate loan must be paid in full. In addition, CalHFA MAC subordinates its loan to ensure homeowners are able to refinance their property. If the lender provides matching assistance in an amount equal to or greater than 100 percent of the PRP assistance provided, then the PRP assistance need not be structured as a loan to the homeowner, and no lien is recorded.
From its inception in 2011 through the first quarter of 2015, the PRP helped 5,519 homeowners and committed $328.4 million in funds. On average, PRP recipients have experienced a 22 percent reduction in their monthly first mortgage payment and nearly a $70,000 reduction in their first mortgage principal balance.
"There are still many pockets in California where home prices have not experienced price appreciation from their significant declines during the recent recession," Ms. Richardson said. "This is particularly true in low- and moderate-income areas, such as Riverside and San Bernardino counties. Economic projections for these areas do not envision conditions that would facilitate homeowners 'growing out of' their underwater status.
"For these locations, the PRP is just as important now as it ever was. One thing we know for sure is that no single solution works for every homeowner situation," Ms. Richardson said. "California's principal reduction program is designed to be as flexible as possible to meet the needs of both homeowners and lenders under numerous scenarios. Smart lenders and investors who are in the know routinely use PRP to help struggling homeowners in their portfolio get the help they need."
For more information, visit CalHFA's Website or contact Steve Gallagher at (916) 326-8612 or skgallagher@calhfa.ca.gov.
1 Core Logic Equity Report, Fourth Quarter 2014, March 2015.
2 The negative equity shares in metropolitan areas of Riverside-San Bernardino-Ontario (Inland Empire) and Sacramento-Roseville-Arden-Arcade were 14.8 percent and 11.3 percent, respectively, according to the Core Logic Equity Report, Fourth Quarter 2014.
3 Effective April 6, 2015, the PRP was expanded to provide principal reduction assistance to help homeowners achieve an affordable payment even if their home is not underwater. When the PRP is provided in this way, CalHFA assigns a 30-year lien.
This publication is part of:
Collection: Community Developments Investments
---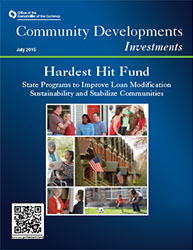 Download PDF

Deputy Comptroller
Barry Wides
Editorial Staff
Michael Carrier
Sharon Canavan
Jessica Scully
Lily Dow
Dan Gibbard
Design Staff
Cheryle Robison
For questions or comments, call (202) 649-6420 or email communityaffairs@occ.treas.gov. This and previous editions are available on the OCC's website at www.occ.gov.
Disclaimer
Articles by non-OCC authors represent the authors' own views and not necessarily the views of the OCC.
---
Deputy Comptroller
Barry Wides
Editorial Staff
Ted Wartell
Bill Reeves
David Black
Dan Gibbard
Design Staff
Rick Shacklette
Cheryle Robison
For questions or comments, call (202) 649-6420 or email communityaffairs@occ.treas.gov. This and previous editions are available on the OCC's website at www.occ.gov.
Disclaimer
Articles by non-OCC authors represent the authors' own views and not necessarily the views of the OCC.
---