Community Developments Investments (July 2015)
Florida Hardest Hit Fund: Modification-Enabling Pilot Program
Sharon Canavan, Community Relations Expert, OCC
The Florida Housing Finance Corporation developed a type of principal reduction program using Hardest Hit Fund assistance in an innovative "buy and modify" pilot.
Although home prices in most areas of the United States are recovering, home values remain depressed in many of the hardest-hit states. As of the third quarter of 2014, Florida had the second-highest percentage of mortgaged properties with negative equity at 23.8 percent.1 To address the problem of "underwater" mortgages, the Florida Housing Finance Corporation (Florida Housing) developed a principal reduction program using Hardest Hit Fund (HHF) assistance in an innovative "buy and modify" pilot. Working with a private partner that acquires nonperforming mortgage notes, the Modification Enabling Pilot (MEP) program provides HHF assistance to qualified borrowers by reducing the principal balance of their loans and offering loan modifications that these borrowers can more realistically meet.
The private partner is National Community Capital (NCC), a not-for-profit subsidiary of New Jersey Community Capital, which has been active in providing affordable housing for 27 years. Under its ReStart acquisition program, NCC purchases or otherwise acquires the exclusive right to control the loss mitigation process for deeply discounted, nonperforming mortgage notes. NCC then offers those borrowers financial counseling and, if certain eligibility requirements are met, a loan modification to reduce their mortgage payments. NCC relies on a variety of institutional sources for its capital, including private equity and insurance companies. The ultimate business strategy for many investors who purchase nonperforming loans is to accumulate a portfolio of single-family rental properties. In contrast, NCC believes it can balance its affordable housing mission of keeping borrowers in their homes by offering sustainable loan modifications while still achieving suitable yields and recouping its capital investment.
NCC has acquired several pools of Federal Housing Administration (FHA) mortgage notes secured by properties in Florida. The notes were offered by the U.S. Department of Housing and Urban Development (HUD) under its Distressed Asset Stabilization Program (DASP). Although Florida Housing was actively involved in developing the MEP program, loan purchase is not an eligible use under Florida's HHF guidelines. Therefore, the success of the MEP program hinged on having NCC and its investor partners provide capital to fund the purchase of nonperforming mortgage loans that could be modified with HHF assistance.
To ensure the success of the MEP program, it was also important that the terms of the underlying loans were not a major factor in borrowers' default. David Westcott, Director of Homeownership Programs at Florida Housing, said, "We believed it was prudent to limit the MEP program to DASP pools because we felt these loan modifications would perform better given that the FHA loans were fully documented at origination and did not have exotic characteristics such as 'pick-a-payment' or 'stated income.' "
NCC successfully acquired mortgage notes offered by the FHA as Neighborhood Stabilization Outcome pools of loans concentrated in several areas in Florida. For NCC, the advantage of partnering with Florida Housing was securing access to a source of HHF assistance that could be used to reduce borrowers' principal balance and achieve better loan modification solutions.
"Nonetheless, modifying these loans remains challenging, as these are seriously delinquent borrowers whose home values have declined significantly," said Scott Fergus, NCC's Chief Executive Officer/Chief Investment Officer. "The sustainability of these loan modifications often hinges on the availability of HHF assistance to lower the outstanding principal balance on these underwater mortgages."
Borrower and Property Eligibility Requirements
Borrowers cannot directly apply for MEP program assistance. Rather, if their loans are part of one of the HUD DASP sales acquired by NCC, the borrowers are contacted by an NCC-approved resolution specialist to determine initial eligibility. Borrowers may be eligible for the MEP program if
their documented adjusted household income does not exceed 140 percent of area median income.
they have demonstrated the ability to maintain a financial obligation for the home, based on an affordable mortgage with a total monthly housing payment equal to or less than 35 percent of their monthly gross income.
they are experiencing financial hardship as a result of reduced income caused by a change in employment, medical condition or conditions, divorce, or death, and the current unpaid principal balance is equal to or greater than 105 percent of the property's current market value.
Borrowers who are unable to document any of these financial hardships are eligible for MEP program assistance if their current unpaid principal balance is equal to or greater than 125 percent of the property's current market value.
Property eligibility requirements also apply under the MEP program. The property must be
located in Florida.
the borrower's principal residence.
a single-family home, which includes condominiums, townhomes, and manufactured homes, or a two- to four-unit dwelling, with one unit as the borrower's principal residence.
occupied (may not be abandoned, vacant, or condemned).
Florida's HHF program also offers temporary mortgage assistance, as well as reinstatement assistance to cover arrearages; both of these programs are for homeowners who are unemployed or underemployed through no fault of their own. These different types of assistance may be used in conjunction with one another, but the total combined assistance offered to a borrower cannot exceed $50,000.
Modifying the Loan
After determining that the borrower and the property are eligible, Florida Housing, through the MEP program, makes HHF funds available to NCC, which then uses the funds to reduce the loan's outstanding principal and create a lower monthly payment. The goal under the MEP program is to modify the borrower's loan amount to the lesser of 100 percent of the current market value of the property or to a point where the total housing payment—including taxes and insurance—on the outstanding mortgage balance is 35 percent or less of the borrower's current monthly gross income.
As the holder of the mortgage note, NCC has the flexibility to tailor loan modifications to each borrower's particular case through a combination of principal reduction and modification of the interest rate or term of a borrower's loan. Florida Housing requires at least a dollar-for-dollar match of private capital for every dollar of MEP program assistance that goes toward principal reduction. NCC forgives a borrower's payment arrearages and any amounts advanced for tax, condominium, and insurance payments. Generally, NCC has found that loans in the DASP pools are so seriously delinquent that the amounts forgiven are enough to satisfy the requirement to match the MEP program assistance provided.
Another important component of the NCC approach is making financial counseling available to the borrower during and after the loan modification process to improve the borrower's future payment performance. NCC uses local HUD-approved, not-for-profit housing counseling organizations to contact borrowers whose loans are in the DASP pool and provide counseling services to those borrowers, including financial education, debt management planning, and strategies for reducing monthly homeownership costs.
Financial counseling is offered over the course of the two-step loan modification process. As is typical in most loan modification programs, borrowers must successfully complete a trial modification before the loan can be permanently modified. The MEP program is distinct, however, because the length of the trial modification period depends on how quickly borrowers can lower their outstanding consumer credit obligations to a target 55 percent total debt-to-income level. During the trial modification, financial management counselors work with borrowers on strategies to reduce their outstanding nonmortgage debt. A permanent modification is offered once a borrower has successfully completed their trial by making their required payments on time. Most borrowers make the transition to a permanent modification within three months, although NCC reports that the longest MEP program trial modification lasted 12 months.
To keep borrowers on track once the permanent modification is finalized, NCC also provides six months of post-modification counseling services. This follow-up counseling involves outreach calls and, if necessary, face-to-face counseling sessions.
When the permanent loan modification agreement is finalized, the borrower is required to execute a subordinate, nonamortizing, zero-interest loan equal to the amount of principal reduction assistance provided using HHF funds. Each year 20 percent of the HHF loan is forgiven, until the loan is completely extinguished at the conclusion of year five. "The forgivable loan provides an incentive for the borrower to remain in the home and build up equity," Mr. Westcott said, "which helps to stabilize local communities."
In some instances, loans in the DASP pool are ineligible for HHF assistance and the MEP program because either the borrower or the property does not qualify. In those cases, NCC negotiates an alternative solution or completes the foreclosure process and sells the property. For example, a borrower's financial situation may be too dire to work out a loan modification even if principal reduction is offered, so NCC's counselor partners discuss alternative solutions with the borrower, such as a deed in lieu of foreclosure or a short sale. Abandoned properties also require alternative solutions. If a borrower vacates a property before or after the mortgage has been acquired by NCC, HHF assistance becomes unavailable, so NCC would have to complete foreclosure.
After loans are modified, NCC has several ways to recoup the original investment it made to purchase the DASP pool. One approach is to repackage loans for sale after the loans have returned to performing status and borrowers have established a positive payment history. When NCC acquired the loans in the DASP pools most were seriously delinquent, so borrower credit scores were generally below 500. After borrowers improve their payment performance post-modification and their credit scores improve to 600-plus, their loans can generally be sold to another investor or refinanced.
Through its MEP program, Florida Housing has helped borrowers retain their homes. Working with NCC and its investor partners, which provide capital to fund the purchase of nonperforming mortgages that could then be modified with HHF assistance, the MEP program aligns borrowers' outstanding mortgage obligations with today's market values. This modification solution may give these homeowners a new sense of hope and commitment to the wealth-building opportunity that homeownership presents. Keeping these borrowers in their homes also meets the goal of stabilizing communities, which is the fundamental purpose at the heart of both the HHF and DASP initiatives.
For more information on Florida's HHF programs, visit Florida Housing's Website or contact Nicole Gibson at (850) 488-4197 or Nicole.Gibson@floridahousing.org.
UD's Distressed Asset Stabilization Program 
In 2010, the U.S. Department of Housing and Urban Development (HUD) announced the Single Family Loan Sales (SFLS) pilot program to sell pools of nonperforming Federal Housing Administration (FHA) mortgage notes rather than letting those loans go through the standard foreclosure and disposition process. In 2012, HUD expanded the FHA SFLS pilot with the introduction of the Distressed Asset Stabilization Program (DASP).2
The SFLS program and the DASP are intended to test whether bulk sales of distressed loan assets can enhance the amount recovered on defaulted FHA loans. Also, the DASP provides an opportunity to help borrowers remain in their homes if loans can be modified to more affordable levels. One of the advantages under the DASP is that FHA insurance is removed, giving purchasers of those loans greater flexibility to modify them. Under the DASP, such investors may reduce the principal balance when modifying a borrower's loan to achieve a more viable outcome, as is discussed in the main article above. According to HUD, because these loans would very likely go to foreclosure, the DASP approach "offers a better shot for the struggling homeowner and lower losses to the FHA and taxpayers."3
Under the DASP, participating servicers submit a mortgage insurance claim to the FHA for a seriously delinquent nonperforming mortgage note after certifying that all FHA loss mitigation options have been exhausted and foreclosure has been initiated. For the FHA to accept a note, three conditions must be met: (1) the loan must be at least 180 days delinquent, (2) the servicer must have initiated foreclosure, and (3) the property condition must meet FHA standards. Once the FHA accepts a note, the FHA bundles it with other notes and offers them for sale to investors under a competitive bid process.
The FHA offers two types of loan pools to potential investors: Standard Regional/National pools comprising notes on properties located throughout the country, and Neighborhood Stabilization Outcome (NSO) pools, which comprise mortgages for which the underlying properties are more geographically concentrated, e.g., throughout a metropolitan statistical area.4
HUD requires the investor with the winning bid on either of these two types of pools to delay the completion of foreclosure for a minimum of 12 months and to explore alternatives to foreclosure. NSO investors must ensure that at least half of the NSO loans achieve a neighborhood stabilizing outcome, such as re-performance, rental to a borrower, gift to a land bank, or a loan payoff.5
A recent HUD report evaluated the success of the SFLS program, observing that it is "proving to be a preferred alternative for borrowers than REO [real estate owned]. Unlike REO, where foreclosure is a required first step, the SFLS program provides an opportunity for borrowers to avoid foreclosure."6
For more information, contact Sharon Canavan at (202) 649-6386 or Sharon.Canavan@occ.treas.gov.
1 See "CoreLogic Reports 273,000 Residential Properties Regained Equity in Q3 2014," January 8, 2015.
2 The Federal Housing Finance Association issued guidelines that must be followed when Fannie Mae or Freddie Mac sells nonperforming mortgages. These guidelines require, among other elements, that the new owner of the loans offer mortgage modifications to borrowers. When a foreclosure cannot be prevented, the guidelines require the loan owner to market the property to owner-occupants and nonprofit organizations exclusively before offering it to investors. Fannie Mae established a Web site to provide information about its nonperforming mortgage sales. Freddie Mac also has a nonperforming mortgage sale Web site.
3 "Background: HUD to Unveil Enhanced FHA Note Sales Program," June 8, 2012.
4 On April 24, 2015, HUD announced changes to the NSO sales portion of the DASP. The changes include giving nonprofit organizations a first look at vacant properties, allowing purchasers to resell notes to nonprofits organizations, and offering a nonprofit-only pool.
5 Quarterly Report on FHA Single Family Loan Sales, pages 4-5, FHA, data as of May 30, 2014.
This publication is part of:
Collection: Community Developments Investments
---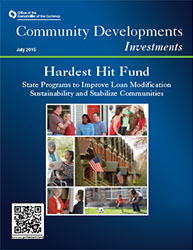 Download PDF

Deputy Comptroller
Barry Wides
Editorial Staff
Michael Carrier
Sharon Canavan
Jessica Scully
Lily Dow
Dan Gibbard
Design Staff
Cheryle Robison
For questions or comments, call (202) 649-6420 or email communityaffairs@occ.treas.gov. This and previous editions are available on the OCC's website at www.occ.gov.
Disclaimer
Articles by non-OCC authors represent the authors' own views and not necessarily the views of the OCC.
---
Deputy Comptroller
Barry Wides
Editorial Staff
Ted Wartell
Bill Reeves
David Black
Dan Gibbard
Design Staff
Rick Shacklette
Cheryle Robison
For questions or comments, call (202) 649-6420 or email communityaffairs@occ.treas.gov. This and previous editions are available on the OCC's website at www.occ.gov.
Disclaimer
Articles by non-OCC authors represent the authors' own views and not necessarily the views of the OCC.
---