Community Developments Investments (July 2015)
North Carolina Foreclosure Prevention Fund: Outreach Initiatives
Michael Carrier, Community Development Expert, OCC
The North Carolina Housing Finance Agency uses a targeted approach to efficiently identify eligible homeowners who may wish to participate in the state's Hardest Hit Fund program.
One of the challenges Hardest Hit Fund (HHF) administrators grapple with is how to efficiently identify eligible homeowners who may wish to participate in their state program. Most administrators use mass media advertising to raise awareness among the general public and encourage distressed borrowers to call their state's HHF hot line. Some states also have developed Websites capable of screening eligible borrowers' applications. The North Carolina Housing Finance Agency (NCHFA), meanwhile, has taken a more targeted approach. While the agency recently invested in significant television and digital advertising—and hosted on-air TV phone banks across the state—its emphasis from the start has been direct outreach to homeowners who are potentially eligible under the NCHFA's HHF program, the North Carolina Foreclosure Prevention Fund (NCFPF). For example, the NCHFA used focus groups of potential clients to help design its Website and identify the places residents facing foreclosure are most likely to seek help.
The NCHFA is using its HHF assistance for several purposes, including helping unemployed and underemployed borrowers bridge temporary income gaps by making their mortgage payments while they look for jobs or retrain, reinstating mortgages for homeowners who got behind during unemployment, and replacing costly second mortgages with zero-interest loans.
The NCHFA developed partnerships across the state with local governmental and nongovernmental entities whose activities include contact with homeowners who might qualify for help. Staff outreach specialists were assigned to develop contacts throughout the state and work with the entities to identify opportunities to market the NCFPF program. These staffers identified organizations and agencies whose clients include individuals who lost jobs or whose hours were cut, reducing their income, and who might seek financial assistance and other social services.
"Where possible, we worked top down, starting with the statewide leadership of partner organizations and industry participants," explained Betsy Rozakis, the NCHFA's Chief Financial Officer, who directs the NCFPF. "In addition to working with state workforce development centers and community colleges, we explored diverse local contacts, from county extension offices to community centers and even pawn shops. We also provided information brochures and flyers for these key players to distribute."
Engaging Lenders and Mortgage Servicers in Outreach Efforts
When the HHF was created in 2010, the NCHFA realized that lenders and mortgage servicers could act as primary sources of referrals for homeowners seeking information about the NCFPF program. The NCHFA encourages lenders and servicers to refer delinquent borrowers to its program by providing information on the lenders' Websites, in their mailings, and through direct telephone contacts. According to the NCHFA, lenders and servicers are the primary sources of referrals to the NCHFA for borrowers seeking information about the NCFPF program. Almost 40 percent of consumer calls to the NCHFA call center have been borrower referrals from mortgage lenders.
NCHFA staff reached out to major lenders and servicers through personal phone calls and emails to gauge their interest in participating. To further educate the mortgage industry about the NCFPF program and help smooth industry participation, the NCHFA followed up with conference calls, one-on-one help, and on-site visits. After these initial contacts, NCHFA staff received inquiries from additional servicers interested in participating. The U.S. Department of the Treasury also encouraged lenders to participate during an annual summit of lenders and homeowners and in its monthly conference calls with mortgage servicing executives.
These industry outreach efforts have met with great success. The NCHFA has partnered with more than 100 financial institutions and mortgage servicers throughout the state that have agreed to offer the NCFPF program to borrowers having difficulty meeting their mortgage payments. Ms. Rozakis estimated that the NCHFA distributed more than a half-million flyers, posters, and information cards. "The NCHFA has engaged with more than 60,000 potential clients," she said, "and our outreach efforts have been integral to our overall success in providing assistance to 19,000 mortgage payment loans through March 2015."
The NCHFA has hired two additional employees to serve as points of contact with lenders and servicers participating in the NCFPF program. With this added capacity, the NCHFA has maintained a dialogue with major servicers through weekly conference calls, attendance at servicer outreach workshops, and monthly "e-blasts" recognizing best practices that servicers have developed to increase client participation. To keep industry participants engaged and energized, each month the NCHFA acknowledges the servicer that has generated the highest number of borrower contacts to the call center and the NCFPF program Website.
Several major servicers have initiated their own efforts to increase borrowers' awareness about the NCFPF program. For example, Bank of America added a message to incoming borrower calls to the collections department, informing callers they may be eligible for NCFPF program assistance. Chase and Truliant Federal Credit Union added links from their Web pages to the North Carolina HHF program Website and have mailed flyers about the program. Wells Fargo mailed a letter and flyer to its North Carolina borrowers who were delinquent on their mortgages, and the State Employees' Credit Union educated all its branch managers statewide on the program. The NCHFA has provided marketing materials to servicers who have distributed thousands of these flyers, postcards, and letters that provide vital program information to borrowers.
"Once we explained the benefits of the NCFPF program to banks, they really began to appreciate its potential value," Ms. Rozakis said. The top selling point for banks is that assistance from the NCFPF program can potentially turn a nonperforming, delinquent loan into a performing asset by increasing the sustainability of a loan modification. Moreover, from a lender's perspective, agreeing to accept payments through the NCFPF program is better than the potential cost of having to market and resell a foreclosed property. Reduced reputation risk is another benefit.
"Although it may require some additional work," Ms. Rozakis said, "by participating in the NCFPF program banks are showing they care about their customers and are interested in helping borrowers secure additional assistance."
Leveraging Borrower Contact Opportunities
In what Ms. Rozakis described as "guerrilla marketing tactics," the NCHFA broadened its direct outreach efforts by identifying alternative points of contact where financially distressed individuals may go for other types of assistance. The NCHFA's partnership with the North Carolina Department of Commerce's Workforce Development and JobLink Career Centers is one of its most productive. NCHFA staffers visit the JobLink centers, train their staff on NCFPF program resources, and provide program information, such as posters and flyers. The NCHFA also participates in the North Carolina governor's rapid response teams, which visit companies that are closing or laying off workers. NCHFA staff hold information sessions at such companies about the NCFPF program for affected workers. This effort is similar to that described in more detail in the article in this newsletter about the Kentucky Housing Corporation's HHF program.
Another approach the NCHFA pursues is contacting unemployed borrowers who are seeking training in new fields and have enrolled in community college programs. The NCHFA has met with state community college leaders and then followed up with visits to financial aid staff at local campuses. NCHFA staff also make presentations at statewide community college education conferences and participate in community college job fairs. Outreach efforts also include contacting college continuing education departments and even high school guidance counselors, who often encounter students whose families are experiencing financial difficulties.
The NCHFA also administers a state-mandated program, the State Home Foreclosure Prevention Project (SHFPP). This program requires servicers to send affected homeowners and the NCHFA a notice 45 days in advance of initiating foreclosure proceedings. The NCHFA observed that many borrowers facing foreclosure fit the eligibility profile for the NCFPF program, so the agency now follows up when it receives SHFPP-triggered notices by sending homeowners information about the NCFPF program and the availability of mortgage payment assistance counseling. The response has been especially strong to a joint letter, worked out by the NCHFA and the Treasury Department's HHF staff, that is periodically included in the mailings.
Local officials also offer a unique marketing channel for reaching borrowers in need. The NCHFA's outreach efforts include the following:
Court clerks have been enlisted to tell people facing foreclosure about the NCFPF program.
Sheriffs have been provided informational material about the program to give to homeowners when serving an initial notice of foreclosure. Many sheriffs have been glad for the opportunity, the NCHFA says, noting that posting foreclosure notices is a task sheriffs dislike.
City or county managers and other local government personnel have been encouraged to post program information and provide links to the NCFPF program Website. These officials, too, are eager to provide this information because, as the NCHFA stresses, the NCFPF program could bring individual homeowners' taxes current, protect property values, and preserve the local tax base.
"We've even contacted social services offices and visited various churches and food banks to spread the word about our program, and asked libraries statewide to post our information in their reference and computer areas," Ms. Rozakis said. In 2014 alone, NCHFA staff participated in 82 business or community events and meetings, reaching an estimated audience of 11,100.
Veterans Initiative
The NCHFA is making a special effort to expand and promote mortgage payment benefits for military service members who have been honorably discharged and are returning home to civilian life and looking for work or retraining. Explained Ms. Rozakis, "After talking with the Veterans Affairs Office in Winston-Salem about the difficulties returning veterans have in their transition to the civilian workforce, we revised some of our HHF underwriting guidelines to better meet their needs." As a result, the NCHFA offers the NCFPF program's maximum period of assistance (36 months and up to $36,000) to veterans who are enrolled in Veterans Affairs vocational rehabilitation or employment programs or who are in school under the GI Bill. To qualify, veterans must have a Form DD-214 with a separation date after January 1, 2008; a VA-issued, unexpired certificate of eligibility for the GI Bill; and proof of enrollment in an educational program or a vocational retraining program. Like all participants, veterans must show that their mortgage payments (including taxes and insurance) exceed 25 percent of their household income in order to demonstrate the need for assistance.
To make sure veterans know about the resource, an outreach staffer participates on the state's Governor's Working Group on Veterans, Service Members, and Their Families. The staffer also has reached out to North Carolina's largest military bases and to local Veterans Services Offices, veterans employment consultants, and local veterans support groups, making presentations, providing printed materials, and generating local news stories. The North Carolina Division of Veterans Affairs' resource catalogue now carries a full-page ad for the NCFPF program.
Housing Counselor Participation
The NCHFA also has a contractual relationship with 40 U.S. Office of Housing and Urban Development-approved counseling agencies to help homeowners apply for the HHF program. Counseling partners are paid for each case they submit in which the borrower meets all the qualifications and is accepted into the program. This arrangement makes it possible for homeowners to get face-to-face help in their own communities, to understand whether they qualify for the program, and to prepare the application and documentation that are required. The counseling agencies provide follow-up assistance after the borrower receives HHF funds. Counselors also actively provide outreach support in their service areas to spread awareness about the program.
Conclusion
Interest in the NCFPF program remains high: 3,380 homeowners were approved for assistance in 2014. What is most gratifying is the program's overall success rate. Almost 60 percent of the program's 31,000 applicants were approved for assistance. Of those who have received loans, 12,000 have completed the assistance period and returned to paying their mortgages. So far, 98 percent have avoided foreclosure after the assistance from the NCFPF program ended.
For more information, visit the NCHFA's Website or contact Charlene Smith at (919) 877-5637 or cbsmith@nchfa.com.
Eligibility Criteria 
Borrowers meeting the following criteria may be eligible for assistance under the NCFPF program:
Home is located in North Carolina and is the borrower's primary residence.
Borrower's total mortgage balance is less than $300,000, including any second mortgage or home equity loan.
Borrower has experienced a job loss or reduction in income through no fault of his or her own; is facing a temporary financial hardship, such as a divorce, serious illness, or death of a co-signer; or is a returning military veteran transitioning to civilian employment.
Borrower experienced a job loss or other qualifying event after January 1, 2008.
Borrower demonstrates ability to resume making the mortgage payment once assistance ends.
Mortgage payment (including taxes and insurance) exceeds 25 percent of the borrower's household income.
Assistance is provided by the NCHFA making the borrower's mortgage payment to the loan servicer on the borrower's behalf for up to 36 months. The borrower is obligated to repay the NCHFA through a subordinate loan that is zero percent interest, is nonrecourse, and defers payment. The NCHFA's subordinate loan is forgiven in 20 percent increments for each year the borrower stays in the home after the initial five years. At the end of 10 years, the note is considered satisfied, and the NCHFA releases the lien securing the note. The NCHFA's subordinate loan is due and payable if the property is sold, refinanced, or no longer owner-occupied. Loans are repayable only from proceeds remaining for the borrower from a sale or refinance. If the property is sold or refinanced and the borrower's equity has not increased to the degree necessary to repay the note, all or a portion of the note is forgiven.
This publication is part of:
Collection: Community Developments Investments
---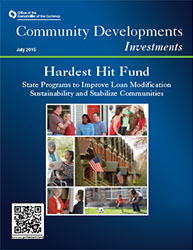 Download PDF

Deputy Comptroller
Barry Wides
Editorial Staff
Michael Carrier
Sharon Canavan
Jessica Scully
Lily Dow
Dan Gibbard
Design Staff
Cheryle Robison
For questions or comments, call (202) 649-6420 or email communityaffairs@occ.treas.gov. This and previous editions are available on the OCC's website at www.occ.gov.
Disclaimer
Articles by non-OCC authors represent the authors' own views and not necessarily the views of the OCC.
---
Deputy Comptroller
Barry Wides
Editorial Staff
Ted Wartell
Bill Reeves
David Black
Dan Gibbard
Design Staff
Rick Shacklette
Cheryle Robison
For questions or comments, call (202) 649-6420 or email communityaffairs@occ.treas.gov. This and previous editions are available on the OCC's website at www.occ.gov.
Disclaimer
Articles by non-OCC authors represent the authors' own views and not necessarily the views of the OCC.
---