Community Developments Investments (July 2015)
Foreclosure Prevention and Community Stabilization Activities Under CRA
Sharon Canavan, Community Relations Expert, OCC
This abandoned home in the Pingree Park neighborhood of Detroit was demolished by the Detroit Land Bank Authority using monies from the Hardest Hit Fund. (Source: Detroit Land Bank Authority)
Community Reinvestment Act (CRA) regulations provide financial institutions opportunities to receive consideration for activities that prevent foreclosures and stabilize neighborhoods. In fact, financial institution regulators were so concerned about the impact of foreclosures on communities that the CRA regulations were amended on December 20, 2010, to encourage banks to engage in activities that are eligible under the Neighborhood Stabilization Program (NSP).1 This article describes the provisions in CRA regulations and guidance for banks to keep in mind as they develop policies and initiatives to address foreclosures, property disposition, and community stabilization.
CRA regulations provide the performance standards for assessing a bank's or savings association's record of helping meet the credit needs of its entire community, including low- or moderate-income individuals and areas, consistent with the safe and sound operation of the institution. Foreclosure prevention programs that provide affordable, sustainable, long-term loan restructurings or modifications to homeowners in low- or moderate-income geographies, consistent with safe and sound banking practices, may help revitalize or stabilize those geographies.2
The definition of community development includes activities that provide affordable housing for low- or moderate-income individuals, as well as activities that revitalize or stabilize low- or moderate-income areas or underserved or distressed nonmetropolitan middle-income geographies.3 An activity is presumed to revitalize or stabilize a low- or moderate-income geography if it has been approved by the governing board of an Enterprise Community or Empowerment Zone or has received a similar official designation as consistent with a government plan for the revitalization or stabilization of the low- or moderate-income geography.4 Activities outside of these designated areas that provide affordable housing to low- and moderate-income individuals also may be considered under the CRA.
Community development services related to foreclosure prevention include providing credit counseling to assist low- or moderate-income borrowers in avoiding foreclosure on their homes and providing foreclosure prevention programs to low- or moderate-income homeowners who are facing foreclosure on their primary residence with the objective of providing affordable, sustainable, long-term loan modifications and restructurings.5
CRA consideration under the investment test may also be provided for a donation or discount on a foreclosed property or a nonperforming mortgage note. For example, a nonperforming note could be donated or sold below market value to a CRA-qualified organization that provides affordable housing for a low- or moderate-income individual. To be considered a CRA-qualified investment, the primary purpose of the note recipient or purchaser must be consistent with the definition of community development.6 Donation or discount of a loan note to a government authority or a separate entity, such as a state housing finance agency, could also be considered a qualified investment, so long as there is a demonstrable community development purpose. A bank may receive CRA consideration for such investments when they benefit the bank's assessment area or provide benefits to a broader statewide or regional area that includes the bank's assessment area or areas.7
CRA consideration for a sale or donation is the difference between fair market value and the discounted disposition price of the property or the nonperforming mortgage. If the property or the nonperforming mortgage is donated outright, the fair market value would be considered an in-kind donation as established by a recent appraisal.
Technical assistance provided to nonprofit or government organizations that is related to the provision of financial services and that has a primary purpose consistent with the definition of community development may receive CRA consideration under the service test.8 For example, banks can provide technical assistance to qualified community development organizations by lending employees9 or helping develop guidelines and standards for a program to acquire nonperforming loans or purchase properties through short sales. Technical assistance could also include management training or financial consulting to help these partners develop or manage an effective loan modification program. Other qualifying activities include financial services training for staff, contributing accounting or bookkeeping services, and assisting in fundraising, including soliciting or arranging investments.10
Also, activities that revitalize or stabilize low- or moderate-income geographies, designated disaster areas, and designated distressed or underserved nonmetropolitan middle-income geographies qualify as community development and are eligible for CRA consideration. The bank regulatory agencies periodically update the list of designated distressed and underserved nonmetropolitan middle-income geographies.11
Expanded Definition of Community Development for NSP-Related Activities
Generally, CRA consideration is available only for qualifying activities that a bank conducts in its assessment area or the broader statewide or regional area that includes the bank's assessment area. A change to the CRA regulations, however, temporarily broadened the geographic consideration for activities related to the NSP administered by the U.S. Department of Housing and Urban Development (HUD).12
In 2010, the CRA definition of community development was amended to temporarily broaden eligibility for consideration of NSP-related activities.13 The pressing need for housing-related assistance to stabilize communities with high foreclosure levels led to the adoption of this revision. Because NSP activities are targeted to areas most severely affected by foreclosures, the rule extends CRA consideration to community development activities that benefit not only low- or moderate-income individuals or geographies, but also middle-income individuals and geographies. The rule also allows consideration of activities in NSP target areas in the bank's assessment area or areas, or in areas outside the bank's assessment area or areas, provided that the bank has adequately addressed the community development needs of its assessment area or areas.
Community development loans, investments, and services that support, enable, or facilitate projects or activities that meet the "eligible uses" criteria under the NSP may receive CRA consideration. Activities need not directly receive NSP funding in order to be eligible for CRA consideration, but the activities must be conducted in HUD-approved, NSP-designated areas and be NSP-eligible activities. Designated target areas are identified in HUD-approved NSP plans. Although NSP grantees deploy their funds in different ways, banks can partner in these stabilization efforts by engaging in CRA-eligible activities that complement grantees' strategies. NSP-eligible activities include the following:
Financing mechanisms for the purchase and rehabilitation of foreclosed properties, e.g., soft-second loans.
Purchasing or rehabilitating abandoned or foreclosed homes and properties for sale, rent, or redevelopment.
Establishing land banks.
Demolishing blighted structures.
Redeveloping demolished or vacant properties.
NSP-eligible uses include the purchase of foreclosed and abandoned property, and HUD has clarified that the definition of "foreclosure" does include pre-foreclosure activities, such as a short sale or deed in lieu of foreclosure.14 Although grantees cannot use NSP funds to purchase nonperforming mortgage notes, if a private investor provides capital to purchase the nonperforming loans and a bank provides other NSP-eligible activities as part of a coordinated neighborhood stabilization strategy, those activities could receive CRA consideration.
As mentioned above, the expanded consideration for NSP-eligible activities under the CRA regulations is temporary. The sunset for this provision is two years after the last date funds appropriated for the NSP are required to be spent by grantees—although HUD issued some exceptions, in general, grantees had to use the NSP funds by March 2014.15 Financial institution regulators will provide reasonable advance notice to institutions regarding termination of the provision once a date has been identified.
For more information, contact Sharon Canavan at (202) 649-6386 or sharon.canavan@occ.treas.gov.
1 75 Fed. Reg. 79278, December 20, 2010.
2 "Interagency Questions and Answers Regarding Community Reinvestment," 75 Fed. Reg. 11642, March 11, 2010. See __.12(g)(4)(i)—1
4 "Interagency Questions and Answers Regarding Community Reinvestment," 75 Fed. Reg. 11642, March 11, 2010. See __.12(g)(4)(i)—1.
9 Ibid., __.12(i)—2 and § __.12(i)—3. It should be noted, however, that the salary for an employee on loan is not considered a grant.
11 The list is published at the Federal Financial Institutions Examination Council's Website.
12 The NSP provided almost $7 billion in funding in three phases. The NSP was authorized in 2008 by Public Law 110-289; $3.92 billion was distributed to state and local grantees to acquire and redevelop foreclosed properties (NSP 1). In February 2009, $2 billion in additional NSP funding was authorized by Public Law 111-5 (NSP 2). Title XIV of the Dodd–Frank Wall Street Reform and Consumer Protection Act, Public Law 111-203, enacted July 21, 2010, provided an additional $1 billion in NSP funding (NSP 3). For more details, visit HUD's Website.
13 75 Fed. Reg. 79278, December 20, 2010.
14 73 Fed. Reg. 58331–58332, October 6, 2008.
15 NSP 3 grantees were required by HUD to expend at least 50 percent of their funds by March 2013, and grantees must commit all of their NSP funds by March 2014. 75 Fed. Reg. 64324, October 19, 2010.
This publication is part of:
Collection: Community Developments Investments
---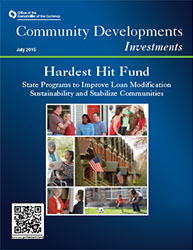 Download PDF

Deputy Comptroller
Barry Wides
Editorial Staff
Michael Carrier
Sharon Canavan
Jessica Scully
Lily Dow
Dan Gibbard
Design Staff
Cheryle Robison
For questions or comments, call (202) 649-6420 or email communityaffairs@occ.treas.gov. This and previous editions are available on the OCC's website at www.occ.gov.
Disclaimer
Articles by non-OCC authors represent the authors' own views and not necessarily the views of the OCC.