Community Developments Investments (July 2015)
The ReClaim Project: Resolving Low-Value Distressed Properties
Craig Nickerson, National Community Stabilization Trust, and Danielle Samalin, Vice President of Homeownership Initiatives, Housing Partnership Network, and President, Framework®
This foreclosed property in Hamilton, Ohio, was purchased through the National Community Stabilization Trust's REOMatch portal and subsequently rehabilitated and sold to a homeowner. (Source: National Community Stabilization Trust)
The ReClaim Project focuses on contributing to overall neighborhood revitalization efforts in markets still recovering from the housing crisis by moving low-value, pre-foreclosure properties toward a community-sensitive resolution. These properties are sometimes referred to as "walk-aways" and charged off by servicers as unrecoverable.
Created as a pilot program in Cuyahoga County, Ohio, in 2011, The ReClaim Project has two primary objectives: first, to create a transparent, predictable program that enables communities to take control of low-value, distressed assets to meet stabilization goals and, second, to provide servicers a cost-effective path to resolve the properties.
The program is sponsored by the National Community Stabilization Trust1 (NCST) and the Housing Partnership Network2 (HPN) as partners in the Community Restoration Corporation (CRC), a 501(c)3 corporation. Additional support and board leadership are provided by the Ford Foundation and the F.B. Heron Foundation.
Abandoned Properties Derail Neighborhood Recovery
In numerous communities today, real estate owned inventories are on a steep decline, and overall foreclosure rates are at five-year lows. But that good news does not apply everywhere. Unfortunately, many low- to moderate-income and multicultural communities are disproportionately affected by lower-value vacant properties that never move to foreclosure sale. These properties, typically with a value below $25,000, stagnate in pre-foreclosure, where no path to resolution seems economically available.
Homeowners with defaulted mortgage loans, significant financial hardships, and homes in serious disrepair often abandon hope and vacate their properties. Adding to the problem, the mortgage servicer often does not take the property through foreclosure. To do so would mean spending additional money without any expectation of repayment. As a result, properties remain unaddressed, creating what are often described as "limbo loans" or "zombie loans." These vacant properties have a viral influence on the community, negatively affecting home values for the homeowners who remain in the neighborhood. Some of these distressed homes are unoccupied for long periods and deteriorate beyond repair, and can pose a serious danger to public safety.
A 2013 RealtyTrac study found that vacant properties inflict heavy costs on American communities: blight, crime, lowered home values, and decreased property tax revenue. And in a 2015 report, RealtyTrac found that 142,462 U.S. properties in the foreclosure process were vacant, representing 25 percent of all properties in the foreclosure process. The states with the most owner-vacated foreclosures were Florida with 35,903 (25 percent of the national total), New Jersey (17,983), New York (16,777), Illinois (9,358), and Ohio (7,360).
For servicers and mortgage investors, completing the foreclosure process for such low-value property loans is often not economically feasible, particularly in judicial foreclosure states. This is where The ReClaim Project team enters to work closely with mortgage servicers, financial institutions, local housing providers, and community, city, and state officials to determine the best possible outcome for these properties, focusing on timely, sustainable solutions that positively affect communities, homeowners, and even mortgage servicers and investors.
Donation of Nonperforming Mortgage Notes Leads to Productive Resolution
The process begins when a servicer donates low-value nonperforming mortgage loans, along with a financial contribution, to The ReClaim Project. The financial contribution is applied to asset-level costs for servicing and loan remediation or property resolution expenses, such as homeowner counseling, property security and maintenance, title and property tax deficiencies, property repairs, and, when necessary, demolition.
These loans are on-boarded with the project's specialized servicer, a firm that has extensive experience with this asset class and handles all servicing functions and initial loss mitigation efforts. The ReClaim Project team and a special servicer join with local government and community housing partners to create the best property-specific execution.
The ReClaim Project uses the NCST's network of community-based providers and the HPN's local members to determine the optimal local working partnerships.
The ReClaim Project team and community partners identify a disposition strategy for a nonperforming loan by considering several factors, including the borrower's financial condition, the property's condition, alignment of a disposition strategy with community goals, and the impact on The ReClaim Project's charitable purpose. After weighing all factors, strategic options are considered, such as modifying loans to lower mortgage payments so the borrowers can once again afford monthly carrying costs. When keeping families in their homes is not feasible, or for vacant properties where no contact can be made with the owners, the best option often is to complete the foreclosure process so that properties can be conveyed to community-based developers for rehabilitation or demolition.
The ReClaim Project and Use of the Hardest Hit Fund
The ReClaim Project benefits from access to the Hardest Hit Fund (HHF) in a number of ways. First, these funds are used to help keep families who are seriously delinquent on their mortgages in their homes. Helping such families, when more common forms of loan modification are no longer available, is beneficial to the family and the neighborhood.
Second, the HHF can be used in select states to cover the property's demolition costs when the asset is conveyed by the CRC to an approved land bank. The U.S. Department of the Treasury has approved using the funds for demolition of low-value distressed properties in select states with high levels of low-value vacant property.
For example, the Michigan State Housing Development Authority found that providing funding to support demolition of vacant, abandoned properties in select markets, in collaboration with land banks, can be part of a comprehensive strategy to strengthen communities and reduce blight.
The ReClaim Project Creates 'Win-Win' Outcomes for Communities and Servicers
Communities need sustainable solutions that provide lasting assistance to families, facilitate vacant property rehabilitation, and permanently remove dangerously blighted properties from neighborhoods.
A Federal Reserve Bank of Cleveland study showed that the community bears large costs when unoccupied homes create health and safety hazards and cause surrounding homes to lose value. The loss of property values hurts municipalities and school districts funded in whole or in part by taxes on the value of real property. Also, when a foreclosure sits vacant, there are additional costs to the creditor or taxing authority due to the accelerated depreciation of unoccupied homes. A previous study completed in Cuyahoga County found that each vacant property lowered the sale prices of surrounding homes by $1,300 to $2,300.
Participating servicers benefit in several ways. Most importantly, conveying a note to The ReClaim Project avoids the cost and economic uncertainties associated with a foreclosure. Also, homeowner retention and community-focused property remediation are prioritized, reducing the reputation risk to financial institutions. The program is designed to enhance the scale, speed, and accuracy of asset resolutions. Lastly, conveying a pool of low-value notes to a single national intermediary is more cost effective than negotiating individual conveyances to hundreds of local organizations with varying levels of note resolution experience.
While The ReClaim Project has just begun, there is great excitement about the opportunities ahead. Through The ReClaim Project, the NCST and the HPN can offer servicers, government-sponsored enterprises, and even the Federal Housing Administration a financially responsible alternative to loan charge-offs and the high cost of foreclosure and subsequent remediation. And importantly, The ReClaim Project involves local grassroots solutions that are sensitive to homeowner needs and community stabilization provider interests.
For more information, contact Sally Powell Schall at (214) 710-3411 or spowellschall@stabilizationtrust.com.
1 The NCST is a nonprofit organization committed to stabilizing the nation's neighborhoods. Formed through the unprecedented collaboration of six leading national community development nonprofit organizations, the NCST serves as the bridge between large financial institutions and local housing providers, and actively helps develop community-based housing strategies to ensure that low- and moderate-income families have access to affordable, safe homeownership and rental opportunities.
2 The HPN is an award-winning business collaborative of the nation's leading affordable housing and community development nonprofit organizations. The HPN uses private sector strategies and partnerships to transform lives, helping millions of people gain access to affordable homes and thriving communities.
Using Hardest Hit Fund Assistance for Blight Removal 
In 2013, the U.S. Department of the Treasury approved Michigan's request to use part of the state's Hardest Hit Fund (HHF) allocation for blight elimination. Since then, five other states have developed programs to use HHF funds for blight removal and greening efforts: Alabama, Illinois, Indiana, Ohio, and South Carolina. The six state housing finance agencies (HFA) have allocated a combined $382 million to blight elimination programs and awarded $339 million to program partners. As of March 31, 2015, HFAs have disbursed more than $50 million to partners who have demolished and greened 3,885 vacant properties.
In Michigan, $175 million in HHF assistance has been allocated for anti-blight efforts, $100 million of which was earmarked for Detroit. Although this amount is expected to cover the demolition and greening of approximately 7,000 properties, there are more than 200,000 vacant properties in the Detroit Metropolitan Statistical Area alone. Michigan's HFA restricted the use of blight elimination funds to single-family residential properties in the stronger neighborhoods targeted for stabilization efforts, where the demolition will have the greatest impact on neighboring homeowners and their properties.
HFAs already report a reduction in crime and enhanced quality of life for homeowners in hard-hit communities as a result of blight elimination efforts. Over the next few years, HFAs expect distressed sales and foreclosures to drop, which would help stabilize (and possibly increase) property values, further reducing the risk of default and foreclosure for homeowners in these targeted communities.
This publication is part of:
Collection: Community Developments Investments
---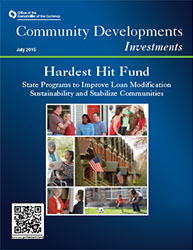 Download PDF

Deputy Comptroller
Barry Wides
Editorial Staff
Michael Carrier
Sharon Canavan
Jessica Scully
Lily Dow
Dan Gibbard
Design Staff
Cheryle Robison
For questions or comments, call (202) 649-6420 or email communityaffairs@occ.treas.gov. This and previous editions are available on the OCC's website at www.occ.gov.
Disclaimer
Articles by non-OCC authors represent the authors' own views and not necessarily the views of the OCC.
---
Deputy Comptroller
Barry Wides
Editorial Staff
Ted Wartell
Bill Reeves
David Black
Dan Gibbard
Design Staff
Rick Shacklette
Cheryle Robison
For questions or comments, call (202) 649-6420 or email communityaffairs@occ.treas.gov. This and previous editions are available on the OCC's website at www.occ.gov.
Disclaimer
Articles by non-OCC authors represent the authors' own views and not necessarily the views of the OCC.
---