Community Developments Investments (January 2021)
A Look Inside…
Barry Wides, Deputy Comptroller for Community Affairs, OCC
Architect's rendering of the Tappan Tremont in Cleveland. This 95-unit apartment building includes 60 percent affordable workforce housing units and was financed by a PNC Bank-sponsored qualified opportunity fund. (PNC Bank)
As the nation works to recover from the pandemic's economic disruptions, national banks and federal savings associations (collectively, banks) can help by rebuilding hard-hit, low- and moderate-income (LMI) and economically disadvantaged communities in designated opportunity zones across the United States.
Banks investing in the nation's 8,764 census tracts in qualified opportunity zones can, under specific circumstances, enjoy tax advantages authorized by the Tax Cuts and Jobs Act of 2017.1 An opportunity zone is an economically distressed area designated by the U.S. Department of the Treasury to attract private investment from qualified opportunity funds (QOF). Investments in these funds can spur economic development and create jobs in distressed communities in urban, rural, and tribal areas across the United States that are home to more than 31 million people. The tax advantages and the opportunity to help communities have fueled the interest of banks and others to invest in QOFs.
This edition of the Office of the Comptroller of the Currency's (OCC) Community Developments Investments explains how banks with capital gains can support distressed communities by including QOF investments in their community development strategies. In doing so, banks can help achieve their community-impact missions and receive Community Reinvestment Act (CRA) consideration for QOF investments that benefit LMI individuals and areas in opportunity zones.
The article titled "Leveraging Qualified Opportunity Funds in Bank Community Development Strategies" reviews the mechanics of investing in QOFs, the legal authority for banks to make these investments, and the criteria for establishing CRA eligibility under the OCC's new CRA rule.
Articles about PNC Bank's and Woodforest National Bank's opportunity zone programs highlight how these two banks have included QOFs in their community development strategies. While both banks created and sponsored their own QOFs, each bank's selection of fund investment projects is guided by its own community-impact mission.
PNC Bank invested its capital gains in its own QOFs to fulfill the bank's community development mission. An article describes opportunity zone projects where the bank financed workforce housing and a community health center.
Woodforest National Bank's opportunity fund, created in partnership with a community development financial institution, finances projects across the Texas-based bank's 17-state footprint, including workforce housing in two cities and the revitalization of the historic St. James Hotel overlooking the Edmund Pettus Bridge in Selma, Ala.
Banks that do not want to sponsor their own QOFs have an alternative way to support distressed communities in opportunity zones. They can invest in third-party funds created by intermediaries such as Local Initiatives Support Corporation (LISC) and Enterprise Community Partners. Intermediaries seek to maximize measurable economic improvements in opportunity zones by carefully identifying projects and tracking and measuring the projects' progress for investors. The opportunities available to banks by working with LISC and Enterprise Community Partners are discussed in the article titled "Intermediary-Sponsored Opportunity Funds Seek to Deliver Community Impact for Investors."
To learn more about investing in QOFs and the OCC's new CRA rule, bankers may contact the OCC's District Community Affairs Officers (DCAO) assigned to their banks' OCC district.
We look forward to hearing how your bank chooses to support opportunity zone investments and about your efforts to help revitalize communities across the nation that have been hard-hit by the global pandemic.
This publication is part of:
Collection: Community Developments Investments
---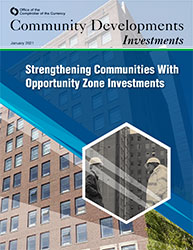 Download PDF

Deputy Comptroller
Barry Wides
Editorial Staff
Karen Bellesi
David Black
Michael Carrier
Janet Fix
Letty Ann Shapiro
Design Staff
Dianne Davenport
Erin Smith
Vince Harris
On the cover
Photos show the Stonewall Building in downtown Birmingham, Ala. The photo in the middle shows Alex Flachsbart, chief executive officer of Opportunity Alabama, and Ed Ticheli, a developer, discussing the renovation of the Stonewall Building, previously known as the American Life Building. The background image shows the renovated Stonewall Building, which is located in an opportunity zone and will contain 140 affordable housing units. (Photos: Opportunity Alabama and LMS Real Estate Investment Management)
Questions or comments
Call (202) 649-6420 or email communityaffairs@occ.treas.gov. This and previous editions are available on the OCC's website at www.occ.gov.
Disclaimer
Articles by non-OCC authors represent the authors' own views and not necessarily the views of the OCC.
---