Community Developments Investments (November 2018)
Community Reinvestment Act Consideration for Rural Broadband Development Initiatives
Michael Carrier, Community Development Expert, OCC
In many rural areas, crews are laying underground fiber-optic cable that connect to or replace cell towers delivering Wifi to residents and businesses. (RS Fiber)
In 1977, the Community Reinvestment Act (CRA) was enacted to encourage national banks and federal savings associations (collectively, banks) to help meet the credit needs of the communities in which they are chartered, including low- and moderate-income neighborhoods, consistent with safe and sound operations of the bank.
The CRA requires the appropriate federal financial supervisory agency—the Office of the Comptroller of the Currency, the Federal Deposit Insurance Corporation, or the Board of Governors of the Federal Reserve System (collectively, the agencies)—to assess a bank's record of meeting the credit needs of its entire community, including low- and moderate-income (LMI) neighborhoods, consistent with safe and sound operation of the bank, and to assign a CRA rating. Among the factors on which banks are evaluated for CRA performance are their provision of community development loans, investments, or related services, depending on their size and business model.
On July 25, 2016, the agencies revised the "Interagency Questions and Answers Regarding Community Reinvestment" (Q&A),1 which recognized the need for broadband development in the nation's underserved nonmetropolitan middle-income geographies. The CRA regulations2 define "community development" to include activities that revitalize or stabilize underserved nonmetropolitan middle-income geographies designated based on population size, density, and dispersion if the activities help to meet essential community needs, including needs of LMI individuals.
One example in the Q&A of the type of project that qualifies as meeting essential community needs, including the needs of LMI individuals, is "a new or rehabilitated communications infrastructure, such as broadband internet service, that serves the community, including LMI residents."3
The Q&A cautions, however, that a bank providing financing for a project that connects services to a middle- or upper-income housing development while bypassing an LMI development that also needs the services generally would not qualify for revitalization or stabilization consideration in geographies designated as underserved.4
For more information, contact Michael Carrier at michael.carrier@occ.treas.gov.
This publication is part of:
Collection: Community Developments Investments
---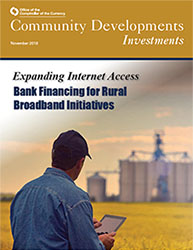 Download PDF

Deputy Comptroller
Barry Wides
Staff Writers
Michael Carrier
Janet Fix
Timothy Herwig
Letty Ann Shapiro
Editorial and Design Staff
Dianne Davenport
Vincent Harris
Morey Rothberg
On the cover
Banks are helping to finance broadband development initiatives in rural communities across America that are struggling without reliable, high-speed internet access.
For questions or comments, call (202) 649-6420 or email communityaffairs@occ.treas.gov. This and previous editions are available on the OCC's website at www.occ.gov.
Disclaimer
Articles by non-OCC authors represent the authors' own views and not necessarily the views of the OCC.