Community Developments Investments (January 2021)
Intermediary-Sponsored Opportunity Funds Seek to Deliver Community Impact for Investors
Letty Ann Shapiro, Community Development Expert, OCC
Washington, D.C., Mayor Muriel Bowser (in red scarf), and other local leaders at the 2019 groundbreaking ceremony for LISC's MLK Gateway project in the Anacostia community. (LISC)
National banks and federal savings associations (collectively, banks) may benefit when investing in opportunity zones by working with intermediaries to identify the right opportunity zone investment, choose a qualified opportunity fund (QOF), and engage in proper project management.
Local Initiatives Support Corporation (LISC) and Enterprise Community Partners (Enterprise) want to help banks make the right choices. For more than 35 years, each has worked with banks on community and economic development initiatives in low- and moderate-income (LMI) communities.
LISC and Enterprise seek to deliver measurable returns to banks and other investors interested in making significant, sustainable, and measurable impacts with opportunity zone investments in distressed and LMI communities. In their separate ways, LISC and Enterprise are demonstrating how to work with communities, investors, and stakeholders in structuring QOFs that achieve the highest impact for these communities.
Local Initiatives Support Corporation
The Ford Foundation formed LISC in 1979 as an intermediary nonprofit organization. The mission was to connect public and private resources with underinvested communities and people. By working with government, foundations, and for-profit companies that have resources and capital and with residents and local institutions who understand local needs, LISC helps to form partnerships with stakeholders that encourage LMI communities to grow and prosper. Over the years, LISC has focused its financing and expertise in a variety of community development activities, such as affordable housing development, creative placemaking, education, small business finance, charter schools, and food- and health-related projects that improve the quality of life for residents in LMI communities.
Through its 35 local offices, rural teams, and national affiliate companies, LISC has invested over $20 billion in grants, loans, and equity in community projects since 1979.1 These funds have leveraged $64.8 billion in community development capital investments to create nearly 420,000 affordable homes and apartments and 70 million square feet of commercial, retail, and community space. LISC's existing funds total $2.3 billion and cover 924 designated opportunity zones across the country.
George Ashton III, Managing Director of Strategic Investments at LISC, describes LISC's approach to opportunity zones as helping to address two typical challenges in underserved communities: (1) minimizing gentrification and displacement by entering communities early and ahead of for-profit developers; and (2) structuring financing that is adequate to support short- and long-term economic growth and opportunity. In addition, LISC focuses on projects that have multiple uses, for example, mixed-use buildings that provide both affordable housing and space for small retail businesses. LISC has developed a four-pronged strategy for its work in opportunity zones.
First, LISC serves as an initial impact investor and supports other impact investors by raising, deploying, and managing investor equity. LISC has aligned itself with QOF equity investors that are not just looking for measurable returns but additional deep, sustainable impact.
Second, LISC works with socially motivated project developers to identify and manage projects that have short- and long-term benefits to residents of opportunity zone communities. As Mr. Ashton explains, "developers are where the magic happens." LISC's qualified opportunity funds finance projects at the intersection of community development and private equity, with experienced developers who want to build projects that provide affordable housing, services, and permanent jobs for residents. A bank may consider participating with LISC by using its capital gain proceeds to make an equity investment in a LISC-sponsored QOF. A bank may also consider providing a loan to a local developer of a specific LISC opportunity zone project.
Construction site for LISC's MLK Gateway project in the Anacostia community in Washington, D.C. (LISC)
One of LISC's first QOF partnerships is the eMpower Anacostia Fund (EAF), the first fund exclusively targeting Washington, D.C.'s historic Anacostia neighborhood. EAF is encouraging positive social impact by developing inclusive, mixed-income neighborhoods. LISC will be tracking the success of workforce tenants through savings account growth, reduction in debt-to-income ratios, and overall long-term financial stability. In addition, LISC will be providing leasing preferences to female, minority, veteran, and immigrant-owned businesses that will occupy the street-level retail space. EAF's initial project is the MLK Gateway I, a $23 million, 34,000-square-foot commercial development with space for a coffee shop, a training academy, and potentially a bank, grocery, and restaurant. HSBC Bank worked with LISC to support a pre-development loan, and the project includes PNC Bank as a senior lender and an investor in the project's new market tax credits. City First Bank of D.C. also will be a lender for the project.
Third, LISC brings together organizations and stakeholders who are committed to community revitalization and shared prosperity for residents of LMI communities. LISC brings together community development corporations and institutions, local and state governments, community residents and leaders, and other organizations to develop strategies. The resulting strategies identify resources, needs, and opportunities in the community. These meetings enable LISC to design projects that are consistent with the community's needs, strengths, and understanding of social impact.
For example, LISC created and convened the Opportunity Investment Consortium of Indiana, which was launched in November 2018. The consortium was established to help implement impactful real estate transactions in Indiana's 156 opportunity zones. The consortium comprises banks, including First Financial Bank, Old National Bank, PNC Bank, and Regions Bank, state agencies, and other corporate partners. Along with LISC, the Fifth Third Foundation has provided a grant to support the consortium's development. The consortium hosts an online portal to aid in matching opportunity zone projects in need of funding to potential investors. The targeted outcomes of these projects are to support jobs, transform places, support businesses, and drive innovation.
The fourth prong pertains to knowledge sharing with the broader community. Qualified opportunity funds managed by LISC will collect data on the social impact of the projects for investors and include tools for measuring change. LISC's six-step playbook offers guidance for opportunity zone stakeholders seeking to make inclusive, equitable community development investments in qualified opportunity funds.
Architect's rendering of the affordable housing units planned for Parkside at Quarry Yards in Atlanta. The development, planned by Enterprise Community Partners, with opportunity zone fund financing, will have access to the Bankhead Marta rapid transit station, the Proctor Creek Greenway Trail, as well as the Atlanta BeltLine's Westside Trail. (whatnowatlanta.com)
Enterprise Community Partners
Enterprise has been bringing together expertise, private and public sector partners, policy leadership, and investments for more than 35 years. Its mission is to create opportunities for LMI individuals through affordable housing in diverse, thriving communities. Enterprise has deep roots working with private developers and has developed strong relationships with investment fund managers and potential financial partners, including banks, community development financial institutions, philanthropic organizations, and local government agencies. Since 1982, Enterprise has created almost 585,000 homes and spent $43.6 billion on community development projects and program development.
Enterprise is actively involved in opportunity zone financing and development with two qualified opportunity funds (QOF). The first is the Enterprise Opportunity Fund, an internal proprietary fund. The second is an external fund called Rivermont Enterprise Emergent Communities Fund. As impact investing vehicles, these funds are expected to generate both responsible returns for investors and equitable and inclusive economic growth that can create economic mobility for LMI communities. As sponsor of the fund, Enterprise's role is to identify community development projects, including a pipeline of investment-ready projects in designated opportunity zones, and manage the QOF's assets.
Banks are typical investors in the Enterprise Opportunity Fund. Generally, the fund seeks to deliver returns consistent with the project's risk. Enterprise uses the fund's capital strategically to structure financing that is appropriate for real estate transactions in LMI communities, which may involve multiple funding sources due to the need for deeper subsidies. Enterprise encourages banks to support opportunity zones, both as investors in QOFs as well as providing loans to specific projects. For projects that are especially challenging, such as housing that is affordable for persons earning less than 80 percent of area median income, the Enterprise Opportunity Fund may use low-cost financing provided by government programs, such as 4 percent tax credit bonds. Enterprise advises that a bank seeking Community Reinvestment Act (CRA) credit for its qualified opportunity fund investment should carefully consider a fund's strategy for selecting projects to ensure they meet the CRA qualifying activity criteria and the bank's geography-based goals, if applicable. The strategy is typically described in a fund's legal documents and prospectus.
Enterprise recognizes that not all opportunity zone projects are alike. As Will Lambe, Director of Capital Solutions at Enterprise, puts it, "If you've seen one opportunity zone project, you've seen one opportunity zone project." Mr. Lambe understands the potential for unintended consequences if QOF managers have a sole focus on profit. He believes that QOFs should help to address community needs, such as by increasing housing affordability, improving community resilience by providing needed services, and improving economic mobility with mixed-use developments. Enterprise implements its philosophy through the design and operation of its QOFs, which have a double bottom line of both providing a tax reduction incentive for investors and providing positive economic and social outcomes for underserved communities.
For example, the goal of the Emergent Communities Fund is to spur economic growth by revitalizing emerging communities and supporting local entrepreneurs. The Emergent Communities Fund identifies projects and offers financing for main street projects across small cities and towns in the Southeast United States, with initial targets in North Carolina and Virginia. The Emergent Communities Fund plans to finance mixed-income projects with a secondary component, such as retail space, a health facility, or food provider located in an underserved or distressed community. The Emergent Communities Fund may also finance the development of workforce housing that is affordable to teachers, nurses, firefighters, and similar professionals who earn 80 to 120 percent of area median income. "The space for financing alternatives and tools to address the community and economic development needs in connection with opportunity zones is still developing," according to Sarah Brundage, Senior Director of Public Policy at Enterprise.
One of the first investments by the Emergent Communities Fund was made in the summer of 2020. Enterprise was able to bring a combination of QOF investments and low-income housing tax credits to the Parkside at Quarry Yards, a 182-unit affordable rental project in Atlanta. The development will feature computer and community rooms, an exercise room, a wellness center, and outdoor playground and picnic area. The development is part of a multiphase master plan to include retail space, a hotel, and expansive green space, all within walking distance of the public rapid transit line. Further expanding the emerging community will be the newly announced Microsoft Atlanta campus, which is planned across the street from the Parkside at Quarry Yards complex and is expected to bring 1,500 jobs to the neighborhood.
Enterprise believes that QOFs should establish parameters for assessing how funded projects will achieve positive social impact. The Beeck Center for Social Impact and Innovation at Georgetown University, the U.S. Impact Investing Alliance, and the Federal Reserve Bank of New York worked together and developed the Opportunity Zones Reporting Framework, which provides core community and economic development principles for measuring an opportunity zone project's outcome.2
Specifically, the framework includes a mission statement and an overview of objectives the QOF seeks to achieve, including
expected outcomes of projects undertaken by the fund, such as jobs created, and descriptions of the data gathering and assessment tools that the fund will use.
data analysis, which will demonstrate how a fund's projects have helped to address local community and economic development needs.
Enterprise was invited to participate on the Opportunity Zone Investor Council, a group of fund managers, investors, and developers working in opportunity zones across the country. The Opportunity Zone Investor Council aims to think, act, and collaborate in new ways with the assistance of tools, experts, and the collaborative thinking supported by the Beeck Center and the OZFramework. The goal is to provide meaningful public transparency and accountability based on proactive partnerships between communities and investors.
Enterprise has included the OZFramework in each of its opportunity zone funds and will report data based on the Beeck Center's framework. Enterprise hopes that its use of the OZFramework will encourage other QOF managers to replicate the process as well as influence potential investors. Ideally, data collected on opportunity zones will help demonstrate, through industry-wide impact assessments of opportunity zone fund investments, that disinvested communities can benefit from this source of capital in well-planned projects and create a win-win for all stakeholders.
Visit the LISC and Enterprise websites for more information on their work in opportunity zones.
For more information, contact Letty Ann Shapiro at LettyAnn.Shapiro@occ.treas.gov.
1 The national affiliate companies are New Market Support Corp., National Equity Fund, and Immito. New Market Support Corp. facilitates investments in new markets tax credit projects, and National Equity Fund facilitates investments in low-income housing tax credits. Immito is a new small business lender launched by LISC in 2018 to encourage economic development and community development. Immito is a licensed and approved nonbank Small Business Administration lender.
2 Refer to the article titled "Measuring the Impact of Opportunity Zone Investments" in this edition of Community Developments Investments.
This publication is part of:
Collection: Community Developments Investments
---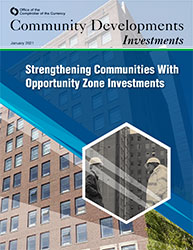 Download PDF

Deputy Comptroller
Barry Wides
Editorial Staff
Karen Bellesi
David Black
Michael Carrier
Janet Fix
Letty Ann Shapiro
Design Staff
Dianne Davenport
Erin Smith
Vince Harris
On the cover
Photos show the Stonewall Building in downtown Birmingham, Ala. The photo in the middle shows Alex Flachsbart, chief executive officer of Opportunity Alabama, and Ed Ticheli, a developer, discussing the renovation of the Stonewall Building, previously known as the American Life Building. The background image shows the renovated Stonewall Building, which is located in an opportunity zone and will contain 140 affordable housing units. (Photos: Opportunity Alabama and LMS Real Estate Investment Management)
Questions or comments
Call (202) 649-6420 or email communityaffairs@occ.treas.gov. This and previous editions are available on the OCC's website at www.occ.gov.
Disclaimer
Articles by non-OCC authors represent the authors' own views and not necessarily the views of the OCC.
---