Community Developments Investments (January 2021)
Woodforest CEI-Boulos Opportunity Fund
The historic St. James Hotel, which is undergoing renovation, sits on the riverfront near the historic Edmund Pettus Bridge in Selma, Ala., in 2020. (Rhaglan Hospitality)
The $20 million Woodforest CEI-Boulos Opportunity Fund is a collaboration between Woodforest National Bank and CEI-Boulos Capital Management LLC. The fund invests in high-impact commercial real estate projects located in opportunity zones throughout Woodforest's 17-state footprint.
Many of the fund's portfolio investments represent collaborations between various entities (local developers, nonprofit organizations, local and state government, philanthropic institutions, banks, community development financial institutions, community-based organizations, and private investors) that share a common vision for their community. All projects are measured against the Opportunity Zone Reporting Framework, developed by the U.S. Impact Investing Alliance, the Beeck Center at Georgetown University, and the Federal Reserve Bank of New York (see "Measuring the Impact of Qualified Opportunity Fund Investments").
One of the fund's investments is financing the restoration of the historic St. James Hotel in Selma, Ala. The project will convert a neglected asset that is central to this rural community's rich history into a Hilton-branded hotel. The hotel will support Selma's growing civil rights tourism industry and provide new jobs for the city's residents. The hotel is a block from historic Edmund Pettus Bridge, one of the most well-known landmarks of the civil rights movement, and near the National Voting Rights Museum and Institute and other attractions. The long vacant downtown hotel is expected to open in fall 2020.
This publication is part of:
Collection: Community Developments Investments
---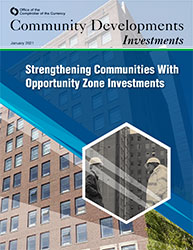 Download PDF

Deputy Comptroller
Barry Wides
Editorial Staff
Karen Bellesi
David Black
Michael Carrier
Janet Fix
Letty Ann Shapiro
Design Staff
Dianne Davenport
Erin Smith
Vince Harris
On the cover
Photos show the Stonewall Building in downtown Birmingham, Ala. The photo in the middle shows Alex Flachsbart, chief executive officer of Opportunity Alabama, and Ed Ticheli, a developer, discussing the renovation of the Stonewall Building, previously known as the American Life Building. The background image shows the renovated Stonewall Building, which is located in an opportunity zone and will contain 140 affordable housing units. (Photos: Opportunity Alabama and LMS Real Estate Investment Management)
Questions or comments
Call (202) 649-6420 or email communityaffairs@occ.treas.gov. This and previous editions are available on the OCC's website at www.occ.gov.
Disclaimer
Articles by non-OCC authors represent the authors' own views and not necessarily the views of the OCC.
---