Community Developments Investments (January 2021)
Measuring the Impact of Qualified Opportunity Fund Investments
Letty Ann Shapiro, Community Development Expert, OCC
Banks can view opportunity zone investing in two ways—as an attractive tax-advantaged investment and as a new community development tool to make a positive social and economic impact in communities they serve. With careful planning and implementation, banks may ensure both views come true.
To ensure positive, long-term economic and social impacts and avoid unintended consequences, banks such as Woodforest National Bank, and other investors, adopted the Guiding Principles and Reporting Framework for Opportunity Zones (OZFramework) with the goal of maximizing the social impact and economic returns from their investments in qualified opportunity funds.
The Beeck Center for Social Impact and Innovation at Georgetown University developed these guiding principles and reporting framework for opportunity zone investing in partnership with U.S. Impact Investing Alliance and the Federal Reserve Bank of New York. The partnership began in 2018 and released the framework in February 2019. The framework is designed to help banks and other investors ensure that their opportunity zone capital addresses the economic barriers facing low-income and underserved communities.
To develop the OZFramework, the partners convened training and work sessions with over 50 organizations representing community development investors, researchers, policymakers, and other stakeholders. The goal was to craft strategies for ensuring that opportunity zone investments result in long-term, meaningful, and inclusive community and economic development. This work resulted in the formation in June 2019 of the Opportunity Zones Investor Council. The council's 15 original members included investors, developers, and fund managers who debated ways to positively affect the nation's opportunity zones; cross-pollinate best practices; and develop new models for community investment.
The framework's five guiding principles for qualified opportunity funds are as follows:
Community engagement: Integrate the needs of local communities, including low-income and underserved communities, into the formation and implementation of how the capital will be used and the types of projects funded.
Equity: Seek to generate equitable community benefits, leverage other available incentives, and aim for the funds' responsible exits from the communities.
Transparency: Engage in practices that are transparent, accountable, fair, and clear.
Measurement: Monitor, measure, and track progress against expected impact objectives.
Outcomes: Apply and track both quantitative and qualitative metrics to assess real changes in communities over time.
The framework recommends collecting, tracking, and reporting on basic transaction-level data, which enables measurement of the economic and social impacts of QOF activities. Transaction-level data include the size and location of the investment property; identification of commercial tenants; and the type of qualifying property.
In addition, the reporting framework recommends that projects collect the following data:
Net new jobs created.
Net new employees hired and maintained.
New entrepreneurs (including whether they are women-owned or minority-owned enterprises and first-time businesses).
Housing units built or renovated, including those identified as affordable housing.
Adopting the OZFramework can help banks, and other investors in qualified opportunity funds, measure the impact that fund-financed projects are having on their communities.
For more information, contact Letty Ann Shapiro at LettyAnn.Shapiro@occ.treas.gov.
This publication is part of:
Collection: Community Developments Investments
---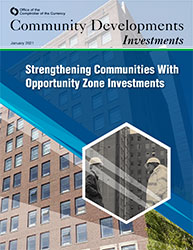 Download PDF

Deputy Comptroller
Barry Wides
Editorial Staff
Karen Bellesi
David Black
Michael Carrier
Janet Fix
Letty Ann Shapiro
Design Staff
Dianne Davenport
Erin Smith
Vince Harris
On the cover
Photos show the Stonewall Building in downtown Birmingham, Ala. The photo in the middle shows Alex Flachsbart, chief executive officer of Opportunity Alabama, and Ed Ticheli, a developer, discussing the renovation of the Stonewall Building, previously known as the American Life Building. The background image shows the renovated Stonewall Building, which is located in an opportunity zone and will contain 140 affordable housing units. (Photos: Opportunity Alabama and LMS Real Estate Investment Management)
Questions or comments
Call (202) 649-6420 or email communityaffairs@occ.treas.gov. This and previous editions are available on the OCC's website at www.occ.gov.
Disclaimer
Articles by non-OCC authors represent the authors' own views and not necessarily the views of the OCC.
---