Community Developments Investments (November 2018)
United Bank, Alabama: Wiring Branches, Several Business Customers With Broadband
Janet Fix, Community Affairs Analyst, and Letty Shapiro, Community Development Expert, OCC
United Bank and several of its business customers, including Smith Tractor, received improved internet access when a broadband network was expanded into their rural Alabama service area. (Smith Tractor Co)
In 1992, when Robert Jones became President and Chief Executive of United Bank, his slide rule was nearby and, like other executives, he had no idea how his business would be transformed by the newly launched World Wide Web. Today, the slide rule is in a display case, and United Bank and three of its business customers enjoy high-speed internet thanks to a deal that extended an existing fiber-optic network into their low-income rural area.
The digital transformation of United Bank, operating since 1904 in Atmore, Ala. (population 10,194), began after too few customers used its new website and after one too many video conferences were interrupted between the bank's 17 branches located in southwest Alabama and northwest Florida.
"It dawned on us that nobody uses our website because all they had was poor, unreliable internet access," Mr. Jones recalled. "In our rural area, the reliability and availability of broadband—or even reasonably acceptable high-speed internet—simply did not exist."
He wanted United Bank to have reliable, high-speed internet to deliver online banking services—bill pay, money transfers, and loan applications—to customers in Monroeville (population 6,000) and Frisco City (population 1,212).
No internet provider, however, had been willing to build a fiber-optic network for the economically depressed towns in Monroe County, Ala. The county—best known as home to Harper Lee, author of To Kill a Mockingbird, and journalist Truman Capote—had struggled economically for years. For many years, Monroe County as residents moved elsewhere for jobs because businesses such as Vanity Fair Brands, a subsidiary of Fruit of the Loom, closed down, Mr. Jones said. The businesses that remained struggled to compete because of unreliable internet.
Fortunately, in 2016, Standard Furniture, Franklin Primary Health, and Smith Tractor were as fed up as United Bank with bad internet service. Their combined frustration provided enough business demand to convince a nearby telecommunications company to extend by five miles an existing fiber-optic network running along highways 84 and 43 from Evergreen, Ala., to Jackson, Ala.
Looking back, if these four businesses had not signed service contracts, Southern Light, now Uniti Fiber, likely could not have justified the $266,400 cost of building out its network to United Bank's Frisco City branch, said Tiffany Ginn, account manager for Uniti Fiber, who worked for Southern Light on the United Bank deal.
The high-cost, capital-intensive reality of broadband means that sufficient customer demand in rural areas is required before a network such as this can be extended. "It's not like we will build it and they will come," Ms. Ginn said. "When customers come, we will build it."
With United Bank on board, it was easier to recruit other businesses to defray the buildout cost, said Kevin Luker, another Uniti Fiber account manager. "That carried a lot of weight with Standard Furniture and Smith Tractor," he said.
Smith Tractor is grateful for United Bank's leadership. Ricky Smith, chief executive of Smith Tractor, said his 65-year-old business in Jay, Fla., a John Deere representative, suffered for years with unreliable wireless service. Because Smith sits on United Bank's board of directors, he learned about the bank's fiber-optic contract and wanted one too.
"We had really bad internet until Bob and United Bank pushed for broadband service," Mr. Smith said. "It was embarrassing from a customer service perspective, to have our computers go down in the middle of a transaction because we had inadequate internet service."
Today, Smith Tractor and United Bank enjoy reliable internet at a cost that, Mr. Smith and Mr. Jones said, is not more expensive than what they had paid for unreliable wireless internet service. They hope their success inspires banks and businesses in other rural communities to collaborate and negotiate for fiber-optic service.
"Ours is a perfect example of how building an initial network in a city has ancillary benefits," Mr. Jones said. "When fiber is brought closer to businesses, the cost declines for other nearby businesses wanting service."
Now, Mr. Jones and Uniti Fiber hope that other rural businesses and internet companies will piggyback on Uniti Fiber's expanded network to provide improved wireless and fiber-optic service area for rural residents as well as businesses.
"Inadequate internet is a pervasive problem in all small towns and rural areas," Mr. Jones said. "No business can compete in this economy without quality broadband, and rural communities must get quality internet access or be left behind."
"If you look at history, the early stage development of communication services followed trails, rivers, rail lines, and finally highways and interstates," he added. "If you weren't on those corridors, communities didn't exist. Today, reliable broadband is the required channel for commerce in rural communities."
For more information, email Janet Fix at Janet.Fix@occ.treas.gov or Letty Ann Shapiro at lettyann.shapiro@occ.treas.gov.
This publication is part of:
Collection: Community Developments Investments
---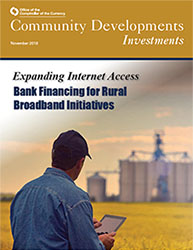 Download PDF

Deputy Comptroller
Barry Wides
Staff Writers
Michael Carrier
Janet Fix
Timothy Herwig
Letty Ann Shapiro
Editorial and Design Staff
Dianne Davenport
Vincent Harris
Morey Rothberg
On the cover
Banks are helping to finance broadband development initiatives in rural communities across America that are struggling without reliable, high-speed internet access.
For questions or comments, call (202) 649-6420 or email communityaffairs@occ.treas.gov. This and previous editions are available on the OCC's website at www.occ.gov.
Disclaimer
Articles by non-OCC authors represent the authors' own views and not necessarily the views of the OCC.
---
Deputy Comptroller
Barry Wides
Editorial Staff
Ted Wartell
Bill Reeves
David Black
Dan Gibbard
Design Staff
Rick Shacklette
Cheryle Robison
For questions or comments, call (202) 649-6420 or email communityaffairs@occ.treas.gov. This and previous editions are available on the OCC's website at www.occ.gov.
Disclaimer
Articles by non-OCC authors represent the authors' own views and not necessarily the views of the OCC.
---