Community Affairs
Helping banks and federal savings associations to be leaders in community development finance.
Community Affairs supports the OCC's mission to ensure a vibrant banking system by helping national banks and federal savings associations to be leaders in providing safe and sound community development financing and making financial services accessible to underserved communities and consumers, while treating their customers fairly. Community Affairs conducts outreach and develops publications to support this goal, in addition to:
Click on a state to contact a District Community Affairs Officer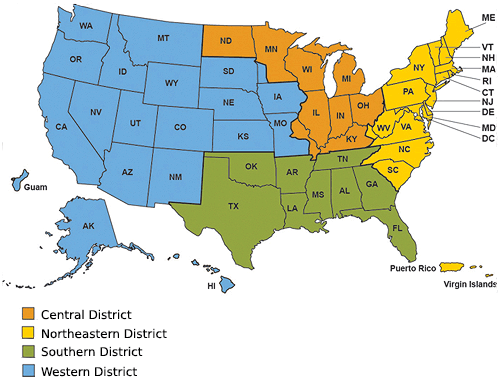 OCC Headquarters
(202) 649-6420
CommunityAffairs@occ.treas.gov
Request an OCC Speaker (DOCX)
---
Read our Recently Released Publications or browse Community Affairs Articles by Topic.

September/October 2018 Financial Literacy Update
This bimonthly e-newsletter reports upcoming financial literacy events, initiatives, and related resources of the OCC and other government agencies and organizations.

Profitable Partnerships: Collaborating With Minority Depository Institutions
(May 2018)
Highlights how minority depository institution (MDI) collaborations with large and midsize banks can be profitable for the parties involved and help MDIs fulfill their missions and serve customers in a rapidly evolving industry.

Expanding Housing Opportunities: Single-Family Rehabilitation Financing Programs (February 2018)
Highlights how minority, low-income, and distressed communities benefit from bank lending and federal loan programs, as well as recent OCC guidance on targeted higher-loan-to-value lending programs.

Historic Tax Credits: Bringing New Life to Older Communities (August 2017)
This updated report describes how the Historic Tax Credit program operates, outlines the risks and regulatory considerations of participation in the program, and discusses how investments in these transactions may be considered under the Community Reinvestment Act.

Historic Tax Credit Program (July 2017)

SBA's Certified Development Company/504 Loan Program: Small Businesses' Window to Wall Street (June 2017)
Provides an overview of the SBA's 504 Loan Program, which is used to finance long-term assets, such as owner-occupied commercial real estate and heavy machinery, at competitive rates.
Related Links